1) Beam served with clinical hold for Beam-201
$BEAM announced an FDA clinical hold on Beam-201, its multiplex silenced CD7 CAR-T asset. Beam-201 is an ex-vivo T-cell therapy being developed for relapsed/refractory T-cell acute lymphoblastic leukemia (ALL) and T-cell lymphoblastic lymphoma. $BEAM uses its base editing technology to prepare the T-Cell ex-vivo before introducing them into the patient. Please refer to the image below for more details on this program.
Beam submitted the IND for this asset in late June. During its FY2021 earnings announcement, Beam mentioned that 201 was a priority for 2022. This clinical hold will delay the company's timeline.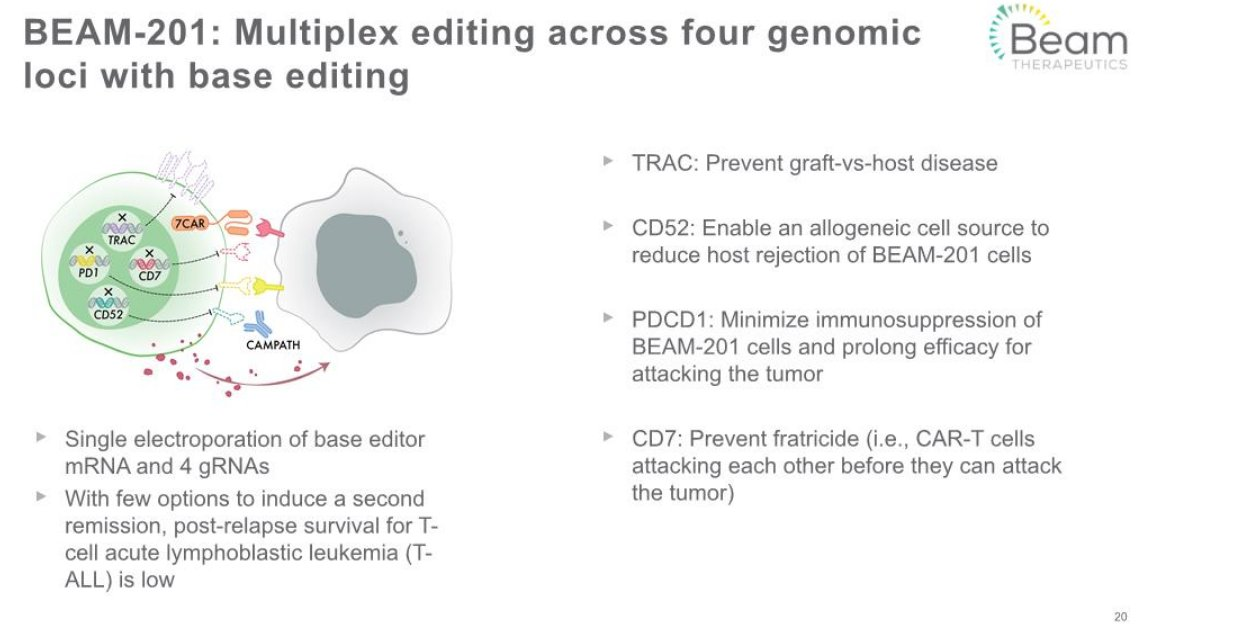 FDA has not indicated the reason for the clinical hold, they will provide an official clinical hold letter to Beam within 30 days.
Hopefully, it is not linked to the base editing technology as that would affect Verve Therapeutics ($VERV) as well, who has licensed the base editing technology from Beam.
That being said, we think that this hold is unlikely to be related to the base editing technology, as $VERV has initiated its phase 1b clinical trial for Verve-101 with the first patient dosed in mid-July 2022 and this trial does not seem to be affected by the clinical hold.
2) Alnylam reports positive topline results from a highly anticipated clinical trial
Alnylam Pharmaceuticals $ALNY is a leading RNAi therapeutics company with 6 approved therapies.
Patisiran is an approved drug for the treatment of hereditary transthyretin amyloidosis (hATTR). Alnylam was testing the drug for a label expansion to include patients with ATTR Amyloidosis with Cardiomyopathy and reported positive data from its APOLLO-B Phase 3 Study.
The drug marker shared that the trial met its primary and secondary endpoint with a statistical improvement over placebo administration at 12 months, improvements were seen in the 6-minute walk test and quality of life respectively.
In terms of safety and tolerability, the company mentioned that the results looked encouraging. This was because the frequency of adverse events in both treated and placebo groups was similar coming in at 91.2% and 94.4% respectively.
Roughly 250,000 individuals around the world suffer from ATTR amyloidosis with cardiomyopathy with limited treatment options. This drug could significantly improve their lives.
Alnylam plans to file a supplemental new drug application in the US in late 2022. The full article can be found here.
3) The acquisition spree continues with Amgen's acquisition of Chemocentryx for $3.7 billion
Amgen $AMGN announced its plans to buy ChemoCentryx for $3.7 billion this week in an all-cash deal. Amgen agreed to pay a 116% premium over its last traded price.
The acquisition will result in Amgen gaining access to 1 approved drug (TANNEOS for ANCA-associated vasculitis) and 4 pipeline drugs in ChemoCentryx's portfolio with a focus on rare diseases, Immuno-oncology, and inflammatory & autoimmune diseases.
Amgen CEO Robert Bradway commented, "The acquisition of ChemoCentryx represents a compelling opportunity for Amgen to add to our decades-long leadership in inflammation and nephrology".
The transaction is expected to close in the fourth quarter of 2022. Full details can be found here.
With that, it's a wrap. We hope our top news of the week article was a valuable and enjoyable read for you.
If you have any suggestions, please feel free to drop us an email.  
If you liked our article, subscribe to our newsletter to receive our latest articles directly in your inbox. The subscribe button can be found at the top of the page.
Disclaimer: All opinions shared in this article are the opinions of the authors and do not constitute financial advice or recommendations to buy or sell. Please consult a financial advisor before you make any financial decisions. The authors do not hold positions in any of the mentioned securities.