Deep Dives
A Deep Dive Into a Pioneer in CRISPR Gene Editing (CRISPR Therapeutics)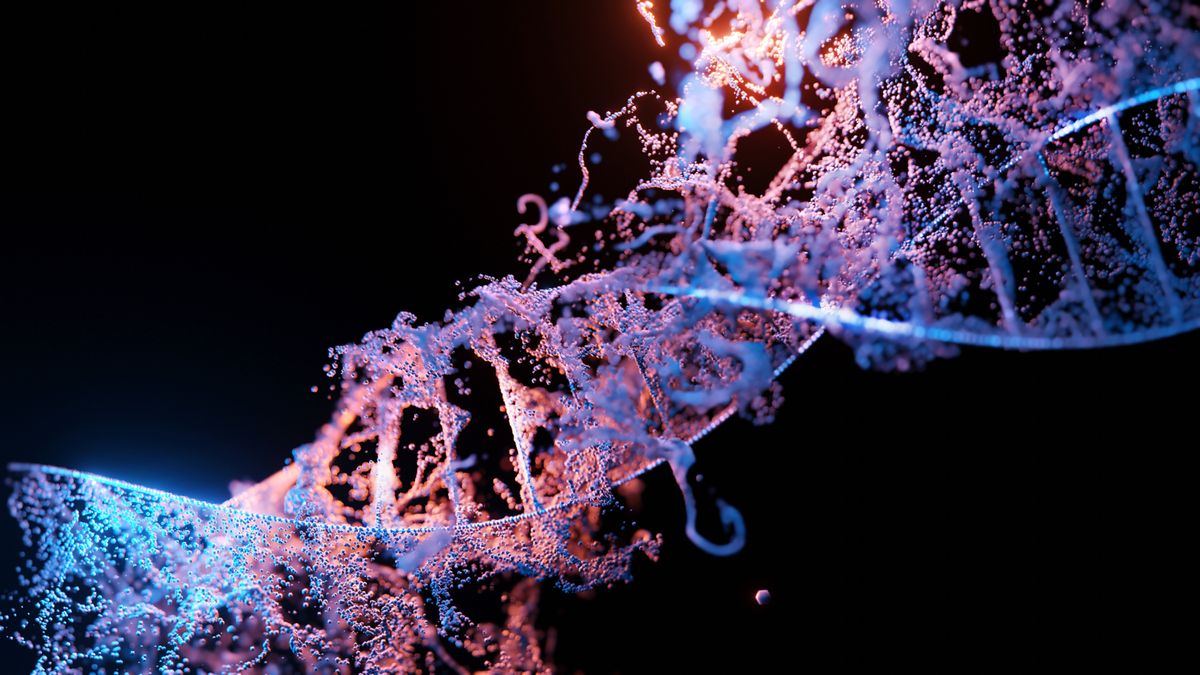 We examine CRISPR Therapeutics to understand what it is working on and if it has the potential to shape the future of healthcare.
This is a story of how humans can learn from nature.
In recent years several CRISPR-related companies have gone public. There has also been a plethora of new data which has started to trickle out from many of these companies.
We have written an overview explaining the different key technologies and given a brief overview of eight CRISPR-related companies in our article -"8 Gene Editing Companies to Consider For Your Portfolio".  Be sure to check it out.
With growing interest in this field and the potential for life-changing therapies on the horizon we felt it is an opportune time to have a look at the individual companies in the space to understand where they currently stand.
In this article, we will take a look at CRISPR Therapeutics AG (CRSP).
CRISPR Therapeutics AG (CRSP)
CRISPR Therapeutics AG is an American-Swiss company that was incorporated in 2013 and now is headquartered in Zug, Switzerland. The company focuses on (just as it is named) CRISPR technology.
On the technology front, CRISPR Therapeutics is using its proprietary CRISPR/Cas9 platform. CRISPR/Cas9 is a revolutionary gene editing technology that allows for precise, directed changes to genomic DNA. We gave a quick overview of technology in our article which is attached here for interested readers.
As CRISPR Therapeutics is a leading clinical-stage gene editing company with no assets on the market yet, let's dive straight into their program pipeline to see what the company is working on.
Dissecting CRIPSR's Pipeline one vertical at a time
The company has a portfolio of therapeutic programs across a range of disease areas, including hemoglobinopathies, oncology, regenerative medicine, and rare diseases.
The biotech has numerous drugs in various stages of development. The latest update from the company indicated that it has several products in clinical trials for hemoglobinopathies, immuno-oncology, and regenerative diseases as of Jun 2022.
We will be breaking down the company's pipeline based on the disease area focus so we can have a clearer view of where the company stands on each of its programs.
Hemoglobinopathies – Tackling blood disorders one mutation at a time
In the hemoglobinopathies focus area, CRISPR has a lead product, exagamglogene autotemcel (exa-cel), formerly known as CTX001™. It is an ex-vivo CRISPR gene-edited therapy that is designed to treat the rare blood disorders beta-thalassemia (TDT) and sickle cell disease (SCD). This program is being developed in collaboration with Vertex pharmaceuticals. This collaboration is essential as it gives CRISPR the financial might to see the development of the project to its end.
In May 2020, CTX001 received Orphan drug Designation from the U.S. Food and Drug Administration (FDA) for TDT and from the European Medicines Agency for SCD and TDT.
In June 2022, the biotech reported positive data for Exa-cel. It shared that, all 75 treated patients with either transfusion-dependent beta-thalassemia (TDT) or severe sickle cell disease (SCD) showed zero or reduced need for blood transfusions. Also, the data showed that the treatment was effective for up to three years. This is a significant improvement compared to currently available treatment options.
With the positive early clinical trial results which support the safety and efficacy of this treatment, CRISPR Therapeutic estimates filing for a potential Biologics License Application (BLA)/Market Authorization Application (MAA) in Q4 2022. The image below shows the company's pipeline programs in this vertical.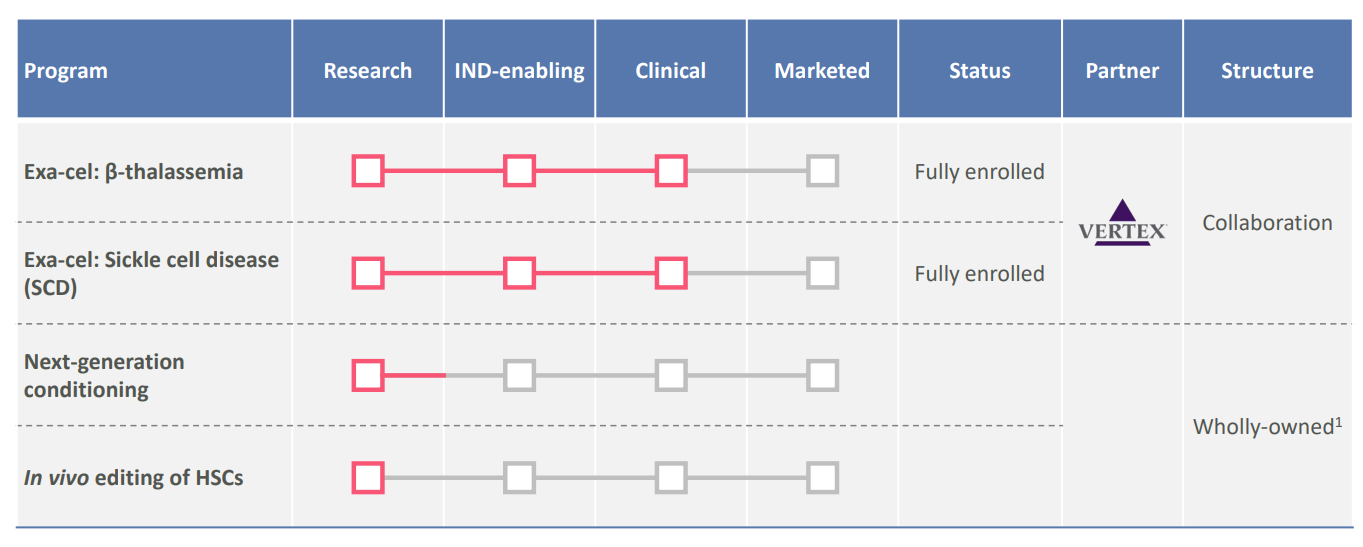 During the drug maker's recent innovation day which was held in June 2022, the biotech shared updates about the next-generation conditioning therapy it is working on. The image below provides a snapshot of what the company planning.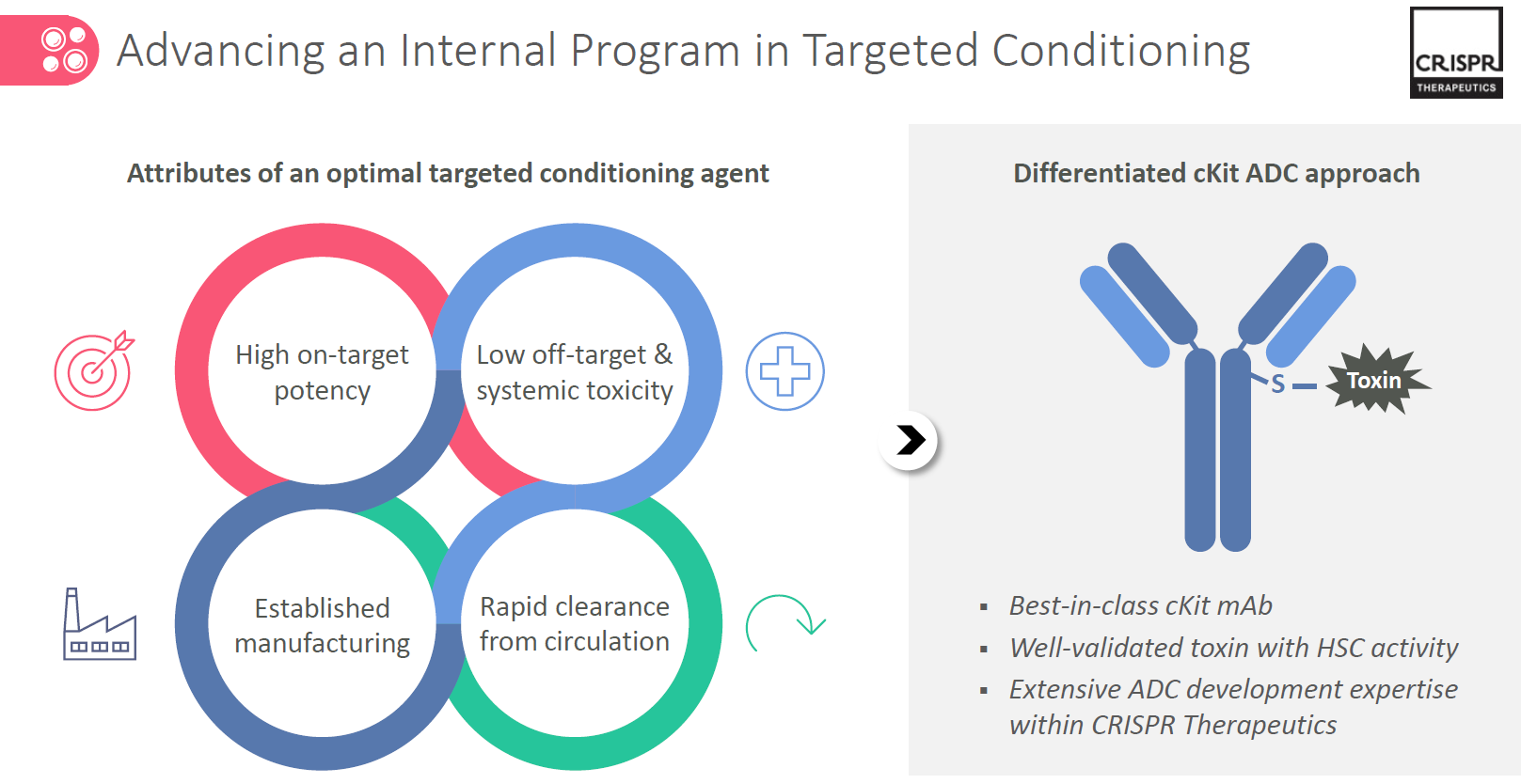 The development of the cKit mAb by the company will be an improvement to the current treatment protocol. Under the current treatment protocol, patients are pre-treated with a standard of care conditioning regime to deplete HSCs before infusion of CRISPR-editing HSCs into the patient. However, the current conditioning protocol is not ideal as it has low potency and causes depletion of none target cells which can result in systemic toxicity.
Due to this bottleneck, CRISPR is working on a cKit mAb which will allow for targeted depletion of HSCs at high potency with low off-target & systemic toxicity.
Early data on this program shows promising data in non-human primate studies, but it is still early days on this front.
CRISPR also shared that is working on an in-vivo offering that would further expand its addressable market.
To explain the need for this additional development, CRISPR estimated how the improved conditioning regime will allow for its market size to expand in the image below. CRISPR also shared that is working on an in-vivo offering that would further expand its addressable market.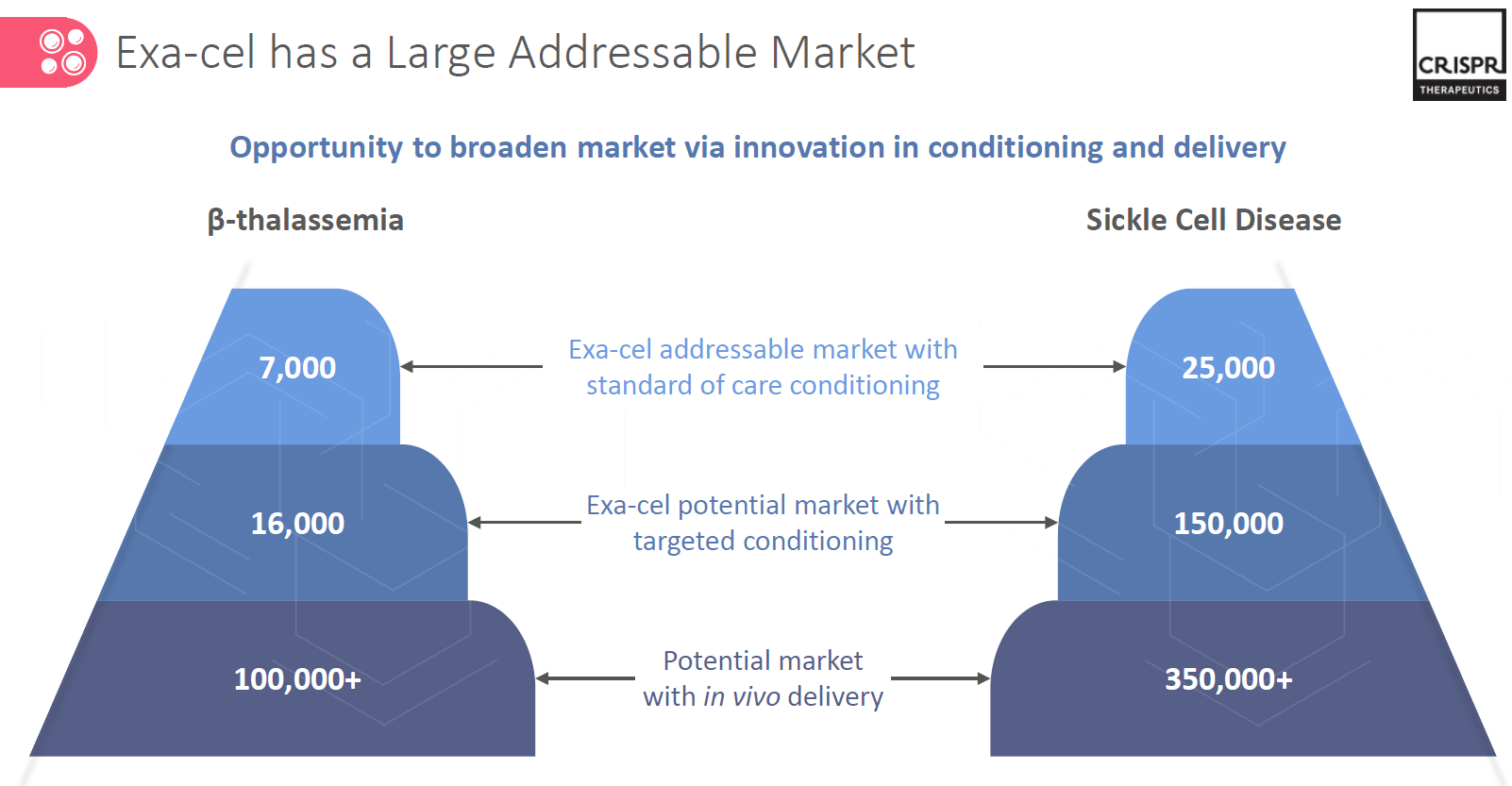 The drug markers progress on its most advanced asset (Exa-cel) seems to be chugging along quite well. In our opinion one key aspect to keep a close eye on will be durability. This is important as it indicates the duration for which the therapy is efficacious after dosing.  
Exa-cel is further along in its clinical trials compared to competitors in the gene therapy space for SCD/TDT. This means CRISPR's offering will likely be the first to hit the market if approved and should give the biotech a green field opportunity to capture market share.
Investors should note that the SCD/TDT space is super crowded with multiple companies looking to develop a suitable therapeutic for this disease. One major competitor to CRISPR therapeutics will be Beam therapeutics who is developing an in-vivo treatment option. As it currently stands, Beam's technology might have an advantage when it comes to in-vivo editing. As such, it would be prudent to closely follow the development on this front and keep a close eye on the competition.
Immuno-oncology - Exploiting the immune system to fight cancer
In the immuno-oncology vertical, CRISPR Therapeutics is developing CTX110, a donor-derived CRIPSR gene edited allogeneic CAR-T investigational therapy targeting cluster of differentiation 19 (CD-19) positive malignancies. For this asset, the company reported positive phase 1 data in late 2021. In its recent update (June 2022), the company reported that it is doing the legwork to move this asset into late-stage development.
The other advanced asset in this vertical is CTX130. CTX130 is a donor-derived gene-edited allogeneic CAR-T investigational therapy targeting Cluster of Differentiation 70 (CD70) to treat various solid tumors and hematologic malignancies.
Specifically for T-cell lymphoma, CTX130 demonstrated a high overall response rate (ORR -70%, which means there was evidence that the tumor was destroyed or significantly reduced) with a multi-compartment response and a tolerable safety profile.
However, CTX130 performed poorly in renal cell carcinoma (RCC) with only 1/14 patients enrolled demonstrating an overall response. But the overall disease control rate stood at 79% (10/14), indicating that their disease was stable and not progressing.
At the biotech's innovation day, it was also announced that CRISPR has entered into collaborations with Moffitt Cancer Centre for the development of its CD83 CAR-T asset with clinical trials expected to begin in the next 12 months and a collaboration with Roswell Park cancer center for the development of the company's GPC3 CAR-T asset for hepatocellular carcinoma.
The image below shows the biotech's assets in this vertical, and its development stages.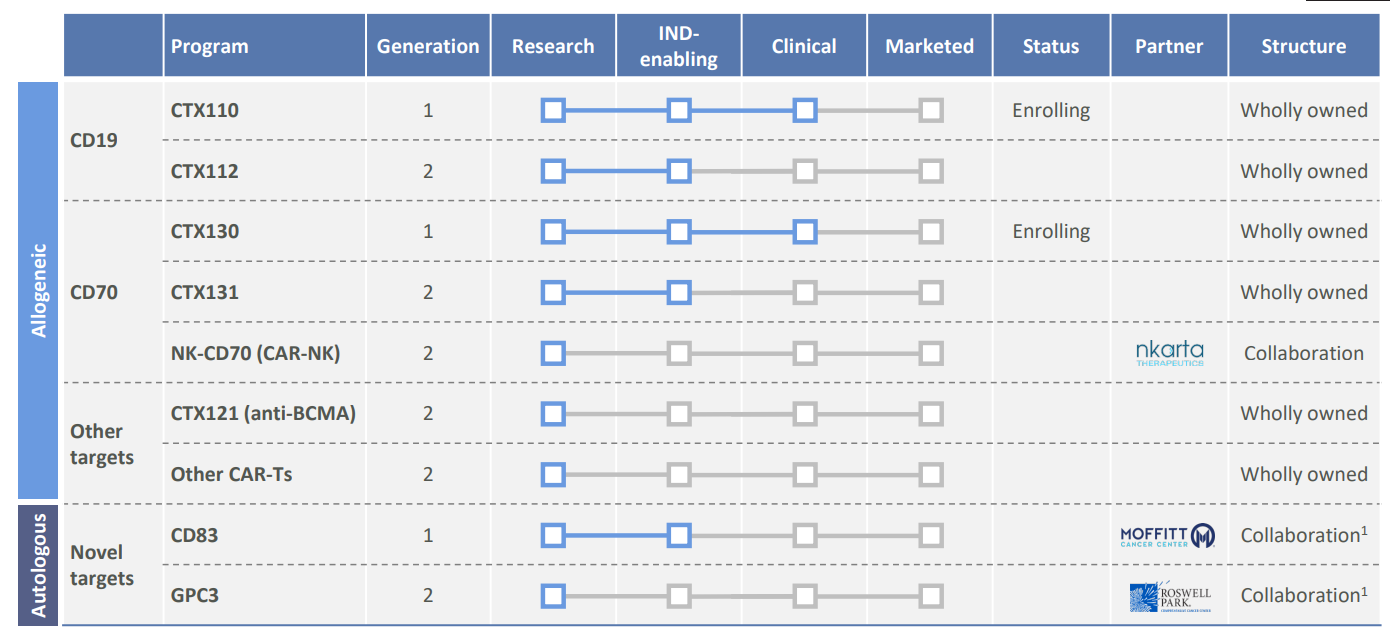 Regenerative medicine – Magically replacing cells in the body to cure disease
In the area of regenerative medicine, VCTX210 is a gene-edited immune-evasive stem cell-derived product candidate for the treatment of type 1 diabetes that is in phase 1 clinical trial, with the first patient dosed in early 2022.
VCTX210 was being developed in collaboration with ViaCyte until they were recently acquired by Vertex pharmaceuticals, which means CRISPR & Vertex have another collaboration in their books.
Apart from VCTX210, the partner companies are working on two improved products in this vertical. VCTX211 is an improved product that has 2 additional edits to promote cell survival and is further optimized for cell fitness. The image below shared by the company explains the details of the changes and their effects on the cells.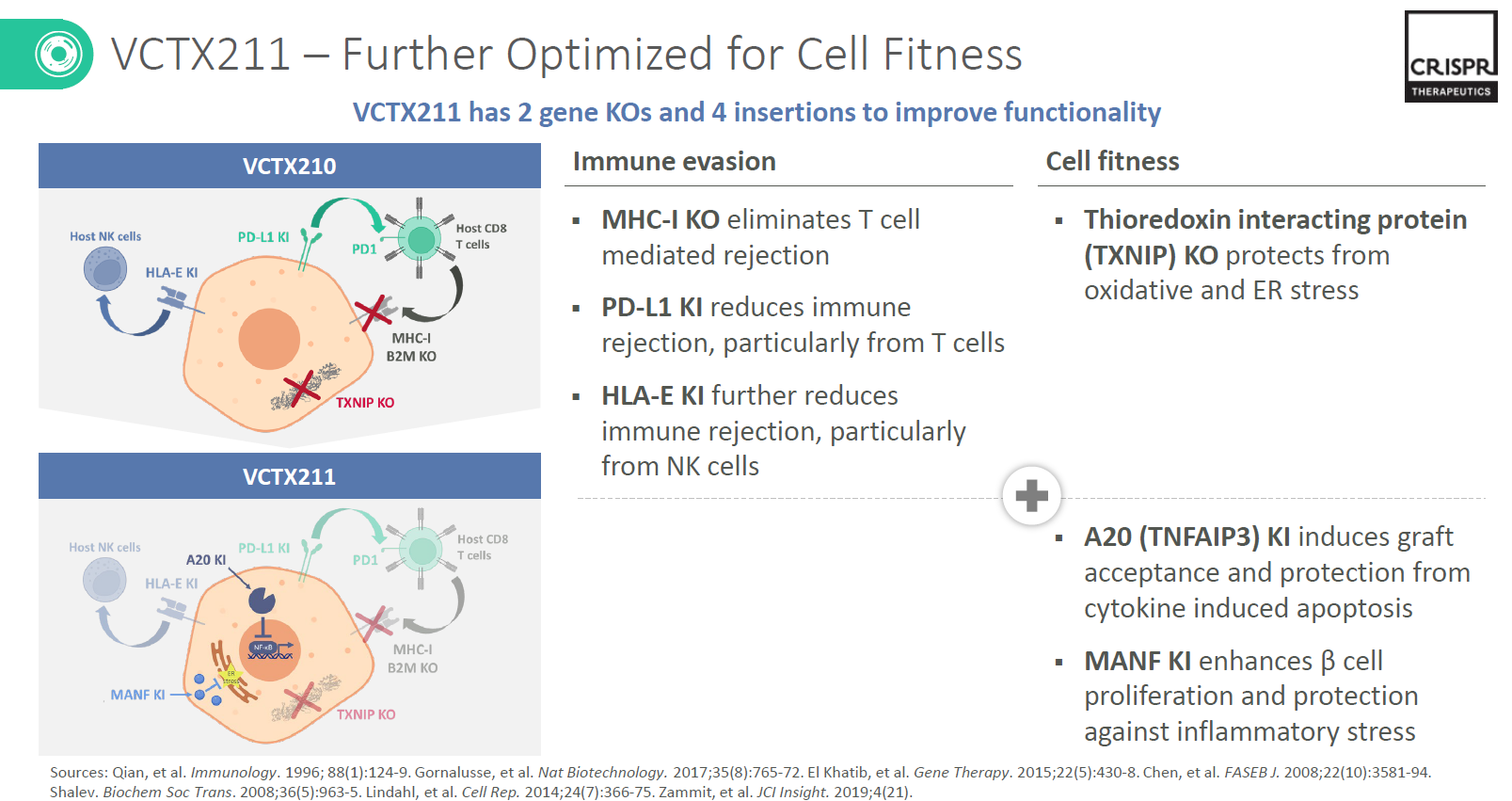 Apart from VCTX211, the company is also working on VCTX212 which will be a further improvement to the offering. This improvement will require more edits and is still in the early stages of research. As such, we will review this space once more information is available.
Bottlenecks I see in this space, is the fact that patients are being dosed cautiously together with the long follow up period which is required to ensure durable efficacy. This is mostly because regenerative medicine is a new kid on the block and people in the industry (pharma's & regulators) are still in the midst of understanding the potential safety issues that could arise.
A good example would be the recent Vertex trial for diabetes in which 2 patients were dosed initially before the trial was put on hold by FDA. The FDA hold was subsequently lifted and Vertex has received approval to enroll its targeted 17 patients in the clinical trial. The slow pace of dosing patients together with longer follow up periods means trials will take longer to complete.
In vivo therapeutics – Repairing the body from within
CRISPR Therapeutics envisions being an in-vivo leader by establishing a leading platform for in-vivo gene disruption.
The company shared a list of targets they are interested to develop therapeutics against which were broadly cardiovascular diseases, liver targets, and ocular diseases. The company has partnered up with Bayer and Capsida Biotherapeutics for the development of some of these assets.
CRISPR shared research data on two programs in the cardiovascular space targeting ANGPTL3 (CTX310) and Lp(A) (CTX320) and PCSK9 (CTX330, no data). The initial data for CTX310 and CTX320 looks compelling in NHP studies and the drug marker plans to progress CTX310 into the clinic in 2023.
While CRISPR's focus on in-vivo therapies is essential, the company is going after similar targets that are being developed by Verve Therapeutics (PCSK9 and ANGPTL3).
Verve Therapeutics has a clear head start in this space as its assets are already in clinical trials. It will be interesting to see which platform is better suited for in-vivo therapeutics as CRISPR and Verve are using different technologies CRISPR/Cas9 and Base editing respectively to correct the mutations.
There has been a lot of in-vitro research touting the safety of base-editing, however, the real test will be when the efficacy and safety profiles are proven in clinical trials.
Other pipelines assets being developed
Apart from the above, CRISPR Therapeutics has also established in-vivo programs that aim to treat glycogen storage disease type Ia (GSD Ia) and, with their partners at Vertex Pharmaceuticals, Duchenne muscular dystrophy (DMD), myotonic dystrophy type 1 (DM1) and cystic fibrosis (CF). Limited information is available about these programs currently.
Competitive landscape
In the realm of gene editing (not limited to CRISPR technology), CRISPR Therapeutics' top competitors include Omega Therapeutics, Lexicon Pharmaceuticals, Sarepta Therapeutics, and Ionis Pharmaceuticals.
Other notable competitors would be those included in our article -"8 Gene-Editing Companies to Consider For Your Portfolio". Be sure to check it out.
While CRISPR was one of the pioneers in the space, the gene editing space has gotten highly competitive with new cas proteins and technologies are being developed. Investors should keep a close eye on the new technologies to determine which company is the front runner in this space. A recent article talking about the potential safety issues with CRISPR-editing can be found here.
The key attributes that will determine the superior technology will depend on the specificity, safety, durability and efficacy, all of which will be closely monitored by the regulators.
Uncertainty about Intellectual Property (IP) Right
Investors should closely track the recent IP ruling on ownership of the CRISPR-Cas9 editing technology. From our understanding, the decision is likely unfavorable to CRISPR Therapeutics based on this article. As such, we are still uncertain about potential IP issues the company might face moving ahead and how it might affect the commercialization of its assets.
Financials
As CRISPR is a clinical-stage biotech, the company isn't generating any revenue from the sale of products. Instead, the company has booked some revenue over the past years which has flowed into the company through collaboration or grants. CRISPR is spending heavily on its R&D to bring its assets to the market.  The company's spend US$541.3 million in 2021.
To support its R&D works, the company has built up a strong balance sheet which ended 2021 with $2.4 billion in cash and equivalents, compared to the $1.7 billion it had at the end of the year 2020. This should be sufficient to see the company through the next 3-4 years.  While that's a handsome sum of money for a clinical-stage biotech, hopefully it is sufficient to bring some of its assets to the endpoint and allow the biotech to start generating revenue.
Closing words
CRISPR Therapeutics currently has one asset in advanced stages of development - Exa-cel for the treatment of SCD and TDT. It has three assets in either phase 1 or 2 clinical trials with the rest still in the early stages of development. In our opinion, it is essential for CRISPR to gain approval for its SCD & TDT therapeutic to allow it to continue funding the development of its other assets.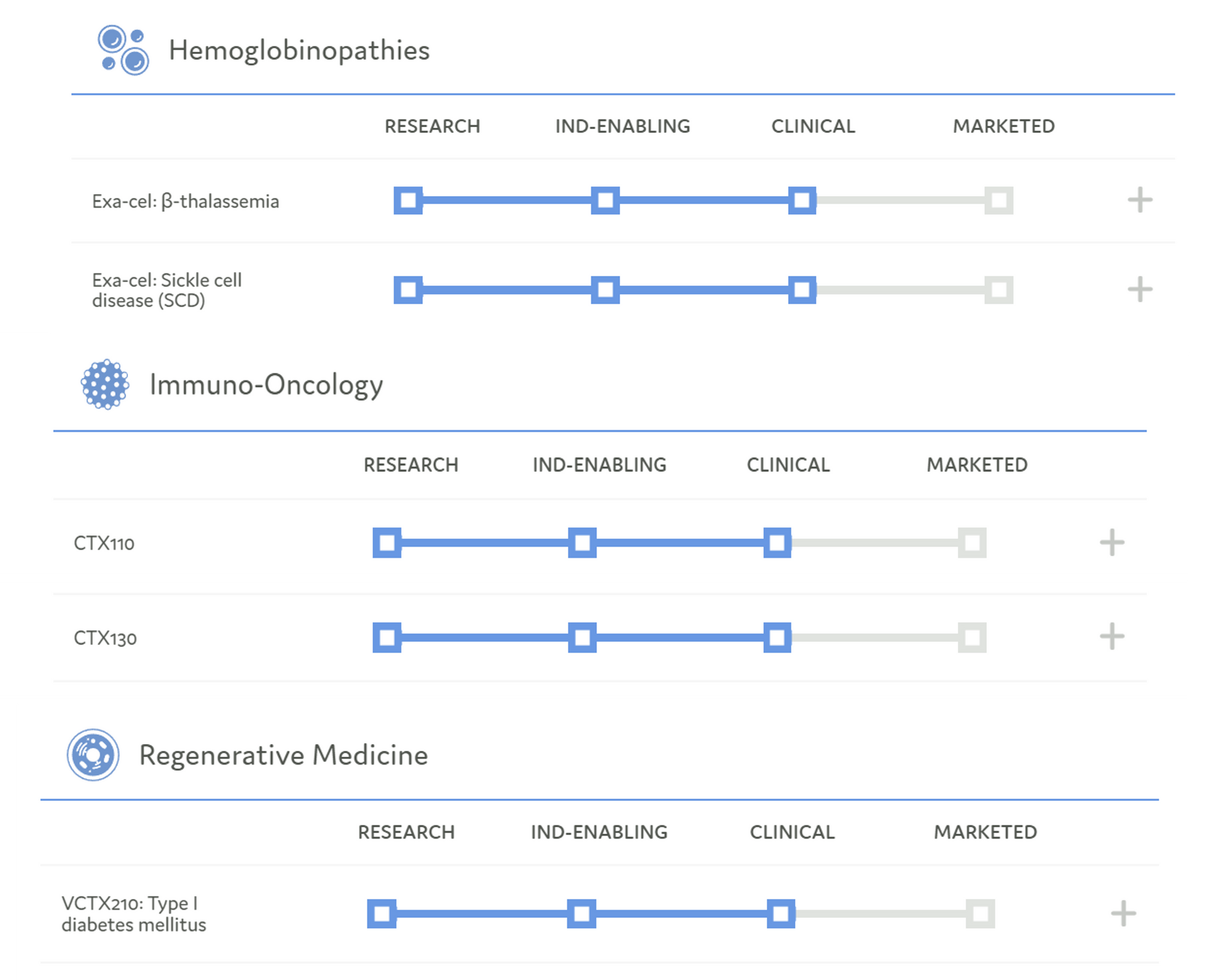 With its strong balance sheet, we believe the company has a runway of about 2-3 years on the safe side and it needs to deliver within this timeline.
On the technology front, as other CRISPR-related companies have started dosing patients, the advantages of the different technologies used by competitor companies should start getting clearer in the next 1-2 years.  Interested investors should thus keep a close eye on this front because a safer and more efficacious gene-editing technology will be a key moat in this space.
If you reached here, it probably means you enjoyed reading the post. We suggest you hit the subscribe button so you do not miss out on any of our future posts. Click here to Subscribe now.
Disclaimer: All opinions shared in this article are the opinions of the authors and do not constitute financial advice or recommendations to buy or sell. Please consult a financial advisor before you make any financial decisions.