Deep Dives
Alnylam Pharmaceuticals (NASDAQ: ALNY) Stock Deep Dive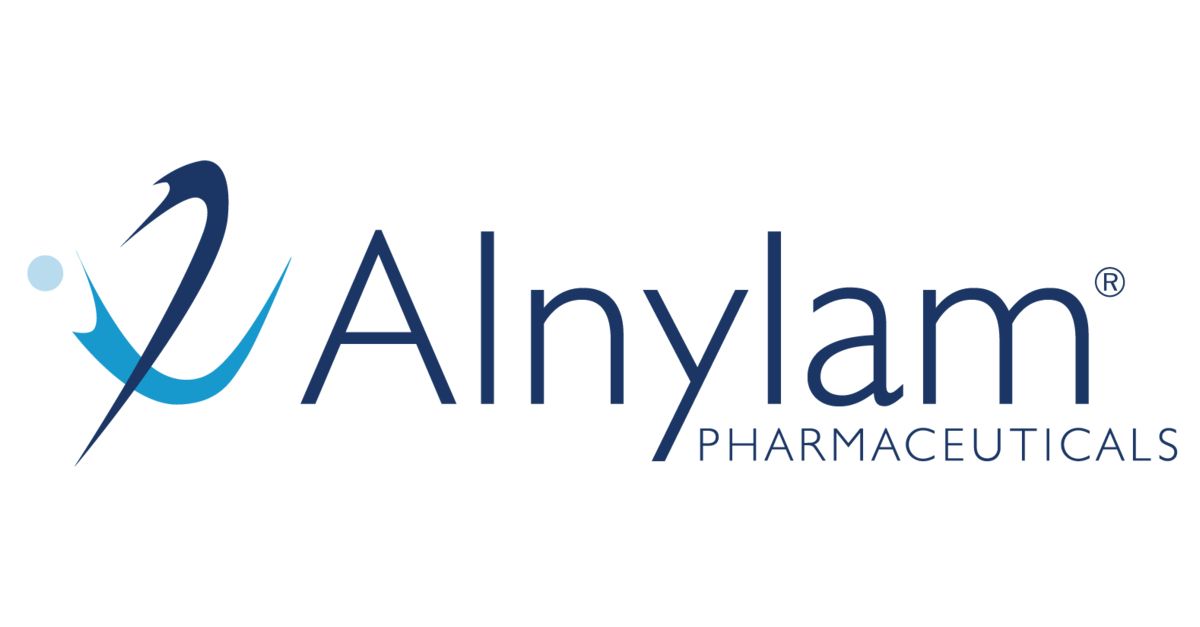 Founded in 2002, Alnylam has led the commercialization of RNAi. However, the company has faced multiple battles on its way here.
After the initial hype of RNA technologies faded in the 2010s, many RNAi companies faced a downturn as the industry quickly lost confidence in the ability to commercialize RNA-based products. This was evident from the pullback from Novartis, the shutting down of development works by Roche, and the retreat from Merck due to delivery concerns. This led to a loss of interest in the sector and the funding soon dried up. Only a handful of companies survived, and this required a combination of determination, sacrifice, and strategic planning.
Alnylam, survived because the company raised money by licensing out its technologies to numerous partners. At the same time, it also made some tough decisions such as laying off staff to preserve enough capital.
Fortunately, in 2012, Patisiran was granted orphan drug status, fast-track designation, priority review, and breakthrough therapy designation due to its novel mechanism and the rarity of the condition it treats. Alnylam also got a cash injection of $700 million from Sanofi Genzyme which allowed it to continue the development of Patisiran. Then in August 2018, Alnylam got approval for Patisiran in the United States and the European Union. Since then, the RNAi-focused biotech has amassed a total of 5 RNAi drugs in its portfolio and has 12 ongoing programs in its pipeline.
Let's dive into the company to look at some of the details.
Alnylam's 5 FDA-Approved Drugs
Alnylam has 5 FDA-approved drugs on the market.
1) Onpattro (Patisiran) and 2)Amvutrra (Vutrisiran is an improvement to Patisiran), in the TTR franchise (patent expiry in 2032 in US and 2033 in the EU)
3) Givlaari (Givsoiran) for Acute hepatic porphyria (patent expiry in 2033 in US and EU)
4) Oxlumo (lumasiran) for Primary Hyperoxaluria Type 1 (patent expiry in 2035 in the US) and,
5) Leqvio (inclisiran) for hypercholesterolemia (PCSK9 inhibitor) in collaboration with Novartis.
One common denominator between all the approved drugs to date is that all 5 drugs target liver-derived diseases. This is not surprising as siRNA delivery systems used currently have an inherent preference for the liver making it an obvious organ to focus on based on the current technology.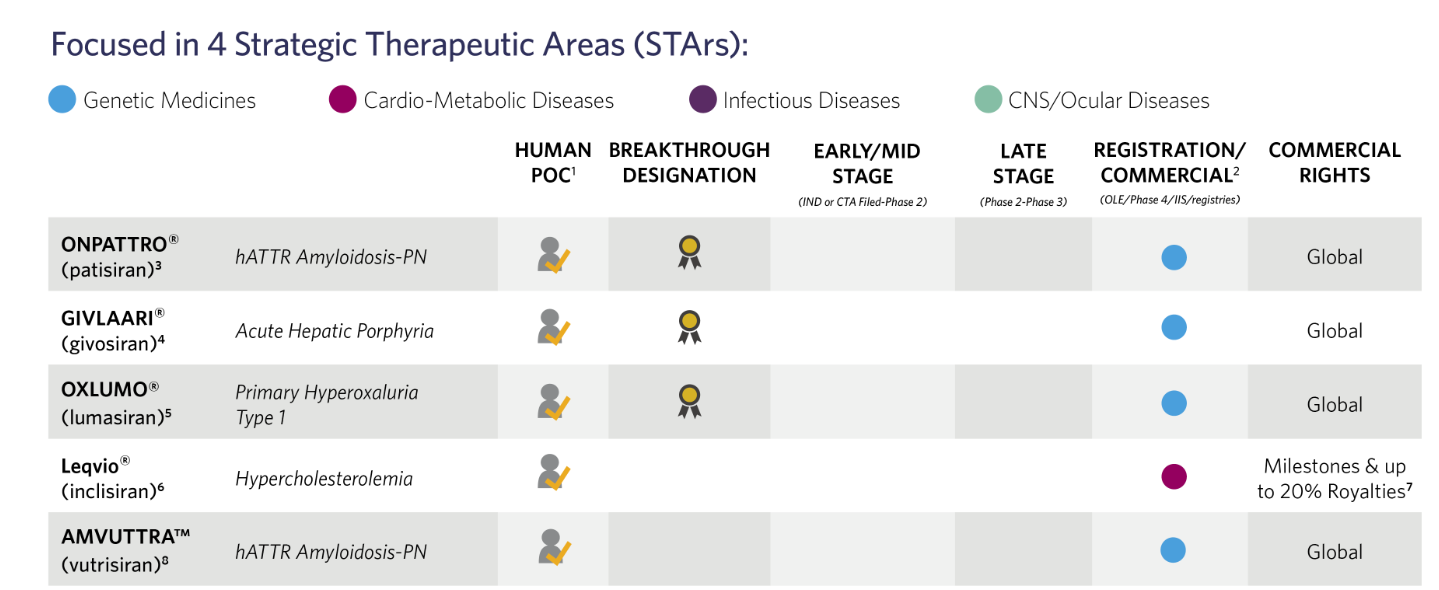 How does Patisiran (or Onpattro) work?
Patisiran was the first ever FDA-approved siRNA drug. Patisiran sold under the brand name Onpattro, is a therapy used for the treatment of polyneuropathy in people with hereditary transthyretin-mediated amyloidosis (hATTR), a fatal rare disease that is estimated to affect 50,000 people worldwide.
ATTR is caused by a point mutation of the TTR gene. Due to the mutation, the tetrameric TTR protein is misfolded causing amyloid formation. The amyloid fibrils then get deposited within the cardiomyocytes, leading to heart disease or can cause neuropathy.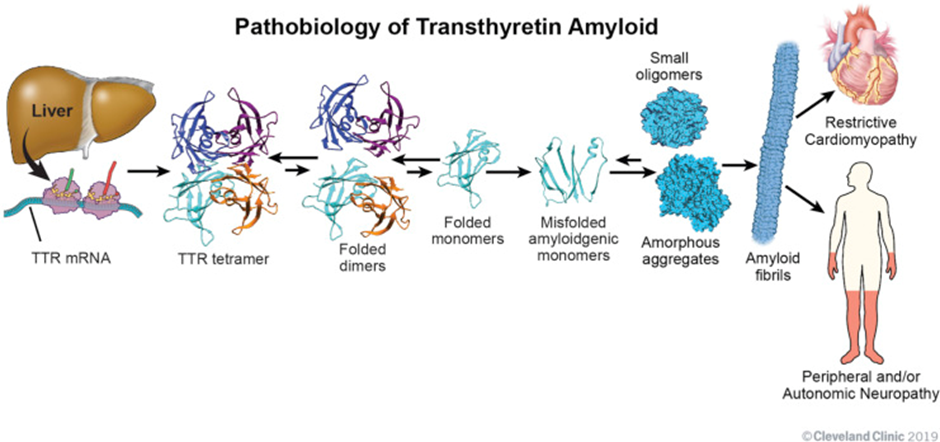 Patisiran is a double-stranded siRNA that targets a sequence within the transthyretin (TTR) messenger RNA, reducing its production.
RNAi takes advantage of existing cellular pathways that target and destroy double-stranded RNA (dsRNA). To activate the pathway, researchers introduce a double-stranded or "hairpin" shaped RNA.
In the case of Patisiran, this RNA hairpin is the drug.  After administration, the drug is cut up by an enzyme called DICER to produce the "short interfering RNA" (siRNA). This is the active form of the drug that will help control the levels of production.
The active form of siRNA then binds to a second enzyme called RNA-induced silencing complex (RISC). RISC separates the double-stranded siRNA into single strands to produce the guide strand. The guide strand/RISC complex then attaches to the transthyretin mRNA and destroys it (see MOA below).
From the above example, it becomes clear that the main objective of the siRNA drug is to reduce the amount of the protein which is being produced. This is where siRNA shines - it is a great tool to reduce the production of a specific protein by interfering (thus its name) at the mRNA level causing its degradation.
As such, it should come as no surprise that the other approved drugs work similarly.
GIVLAARI (givosiran) is the second approved RNAi therapeutic and the world's first-ever GalNAc-conjugate RNA therapeutic to be approved. GIVLAARI works by specifically reducing induced liver aminolevulinic acid synthase 1 mRNA, leading to the reduction of toxins associated with attacks and other disease manifestations of Acute Hepatic Porphyria.
Similarly, Oxlumo (lumasiran) targets hydroxyacid oxidase 1, or HAO1 thereby controlling oxalate production in the liver for individuals with Primary hyperoxaluria type 1.
Lastly, Leqvio (inclisiran) which Anlylam developed and licensed to Novartis is the first and only siRNA that helps to lower low-density lipoprotein cholesterol (LDLC). It works by targeting proprotein convertase subtilisin/kexin type 9 (PCSK9) to reduce LDLC levels.
On the delivery front, which was the key reason why many pharmaceutical companies exited the field in the early-mid 2010s, Alnylam uses two technologies to obtain cell-specific delivery. We talk more about this below.
In Trials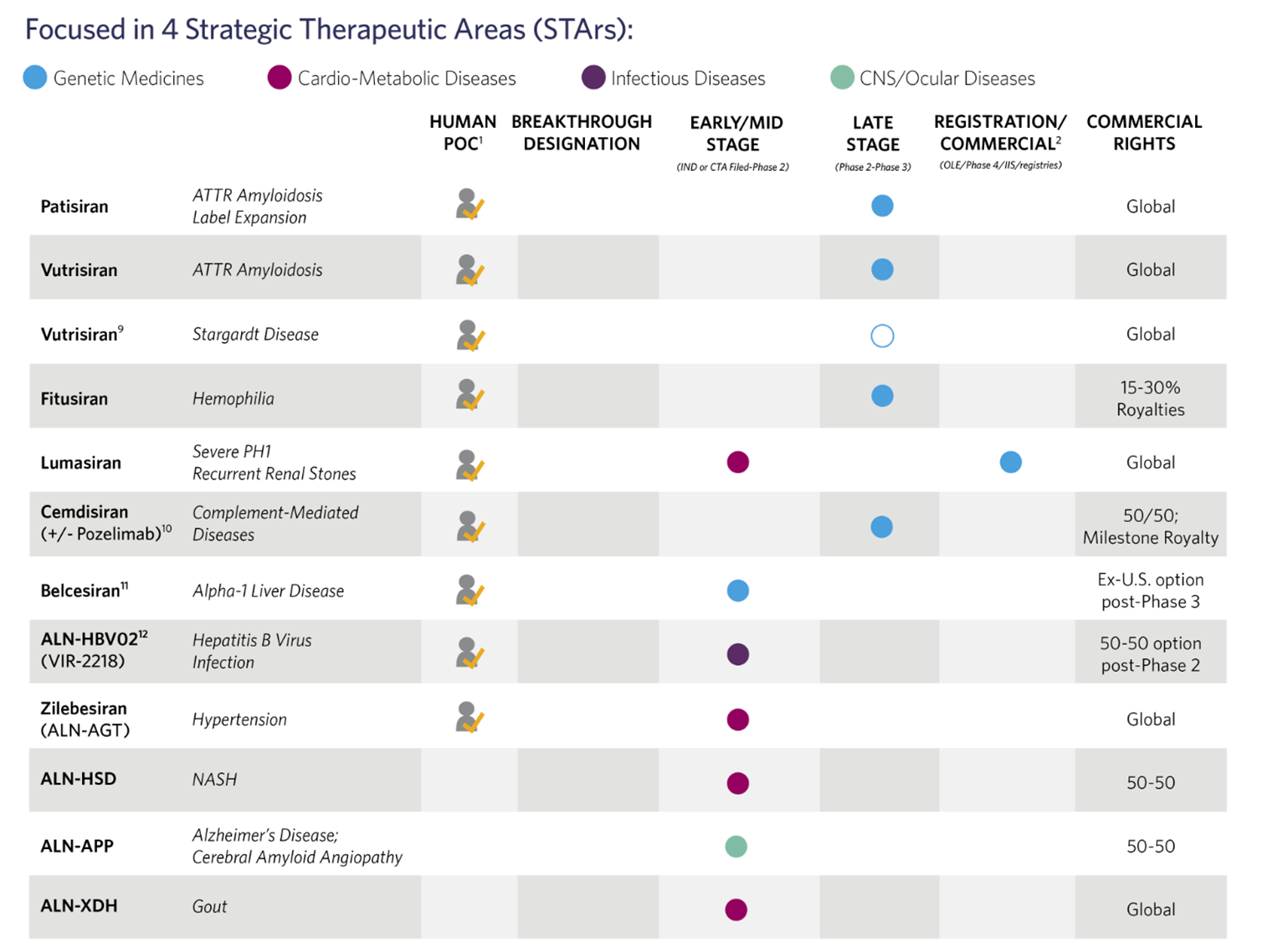 In addition to the five marketed products, Alnylam has five late-stage pipeline programs ongoing.
Three of the drugs in clinical trials are existing FDA-approved drugs seeking label expansion, these are lumasiran, patisiran, and vutrisiran.
The other two assets, Fitusiran - which is for the treatment of hemophilia is being advanced by Sanofi Genzyme, while Cemdisiran for the treatment of complement-mediated diseases is being developed by Regeneron.
With regards to fitusiran, in 2021, a Phase 3 study compared once monthly fitusiran prophylaxis (80 mg) with currently available therapeutic options in two trials (on-demand use of factor concentrates in the ATLAS-A/B study and on-demand use of bypassing agents in the ATLAS-INH study).
Across both clinical studies, prophylactic treatment with fitusiran reduced annualized bleeding rates by >89% compared to the control arms. These results were statistically significant and clinically meaningful. The positive data is a win-win for both Alnylam (which stands to receive between 15-30% royalties if this drug goes to the market) and Sanofi (as it obtained the global development and commercialization rights to fitusiran in 2018 as part of a strategic restructuring).
In June 2022, Alnylam reported positive topline results from its Phase 2 study of Cemdisiran for the treatment of IgA nephropathy. Also, cemdisiran is being evaluated by Regeneron in combination with pozelimab (REGN3918), an anti-C5 monoclonal antibody. In late 2021, Regeneron initiated a Phase 3 study of cemdisiran and pozelimab combination in myasthenia gravis, in addition to multiple Phase 2 studies and a Phase 3 study in paroxysmal nocturnal hemoglobinuria.
The other programs in the pipeline are in various stages of early development or phase 1 trials. As such it might be a bit early to investigate the specifics. But one evident thing is the large markets these modalities can grow into if successful such as hypertension, NASH, Alzheimer's disease, and gout.
Delivery platforms
Alnylam uses two distinct approaches to enable the delivery of the siRNA therapeutics to target tissues, namely the lipid nanoparticles (LNPs) and conjugates.
The LNP approach used by Alnylam referentially distributes to the liver because of its affinity for apolipoprotein E (apoE), an endogenous ligand for the low-density lipoprotein receptor (LDLR) expressed on the surface of liver cells (hepatocytes). This is approach is used by the drug maker to deliver Patisiran.
After Patisiran, Alnlyam moved away from using LNPs for delivery and has focused on using its conjugate delivery methodology for its other therapeutics.
The biotech utilizes its GalNAc conjugate technology to achieve liver targeting. Their medicines GIVLAARI® (givosiran), OXLUMO® (lumasiran), and Leqvio® (inclisiran) all utilize the GalNAc conjugate delivery technology.
A research group at Alnylam built the GalNAc delivery technology based on 50 years of ASGPR and 30+ years of galactose delivery studies. They put together the pieces of the puzzle and conjugated tris-GalNAc to siRNAs to show that the conjugate had significant RNAi activity in liver hepatocytes in vivo. This was further developed and has now become the delivery workhorse for Alnylam for liver-targeted delivery.
The company commented on its GalNAc delivery technology, "This simpler delivery approach enables more convenient, subcutaneous administration of our drug candidates directed to liver expressed target genes, a key aspect of our platform. Results from our Enhanced Stabilization Chemistry, or ESC, GalNAc-conjugate delivery platform have demonstrated a durability of effect that we believe, based on our clinical results, supports once-monthly, once-quarterly, and in some cases, bi-annual subcutaneous dose regimens. Due to this increased potency and durability, as well as a wide therapeutic index, this conjugate platform has become our primary approach for drug development and is leveraged and we believe, strongly validated by, GIVLAARI, OXLUMO, and Leqvio, our more recently approved medicines". See the image below for a visual.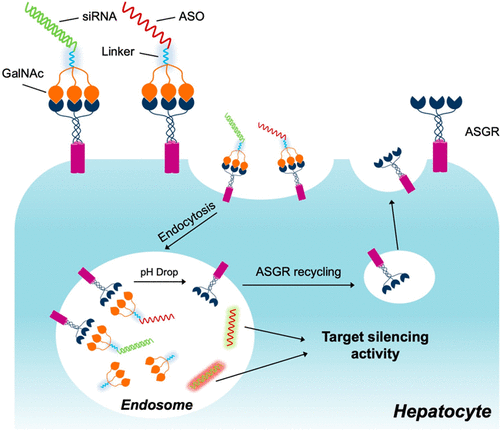 Despite the success of Alnlynam's first-generation GalNac system, the company is not resting on its laurels. It is continuing to develop this technology with further enhancements. The key area of improvement for ESC+ will be enhanced stabilization against nucleolytic degradation (the cutting up of the RNA molecule) which is essential for optimal in vivo performance of GalNAc-siRNA conjugates.
On this front the biotech commented, "Our next generation Enhanced Stabilization Chemistry-Plus, or ESC+, GalNAc-conjugates utilize advanced design features to further improve specificity, while maintaining potency and durability, further improving our already wide therapeutic index by up to six-fold. Our first wave of investigational RNAi therapeutics based on this ESC+ design, zilebesiran (formerly ALN-AGT), ALN-HBV02, and ALN-HSD, are in the clinic, with what we believe are encouraging initial results."
Beyond the liver
If you are thinking, Alnylam's potential is limited due to its focus only on the liver. Think again.
The company has started innovating on its delivery systems to allow it to target extrahepatic tissues. On this front the company shared some information, "Our platform enhancements have also provided a strong foundation for pursuing a conjugate-based approach to extrahepatic delivery, including delivery to the brain and spinal cord, as well as ocular delivery".
Alnylam also fostered a $1B collaboration with Regeneron focusing on the development of RNAi therapeutics for eye and CNS diseases in 2019.
Alnylam has since advanced its extrahepatic delivery platform when it kicked off a phase 1 trial of a potential treatment for Alzheimer's disease in collaboration with Regeneron earlier this year (2022).
Alnylam also published data from a preclinical study that demonstrated that the delivery system allowed for efficient knockdowns in the CNS, the eye, and the lung in animals. Knockdown of the target gene lasted three months and was associated with reductions in an isoform of beta-amyloid in mice.
While it is still early to assess the efficacy and potency of ALN-APP it will be an interesting development to follow. Our opinion is that CNS delivery is a tough problem to solve, and to date, we have not seen much success on this front. If Alnylam's delivery system were to allow high targeting ability together with retention ability the platform will have significant value not only for RNAi therapeutics but also for CNS-targeted modalities.
Apart from the above, Alnylam entered into a license and collaboration agreement with PeptiDream to discover and develop peptide-siRNA conjugates for targeted delivery of RNAi therapeutics to a broader range of extrahepatic tissues in 2021. It is also developing platforms (IKARIA™ and GEMINI™) to further improve its delivery offerings.
Overall, we believe that Alnylam is moving in the right direction by investing to solve these challenging delivery problems, especially for targeted delivery to the CNS and Lungs. But at the same time, we would be cautious not to like the optimism from these developments cloud our view on the valuation front. These are tough problems to solve and their success in solving these problems can only be assessed when more data is available.
Competitors
The competitive landscape is quite complicated for Alnylam as it is going after multiple rare diseases. Unlike Sarepta's case which was focused on Duchene Muscular Dystrophy (DMD), Alnylam must contend with competition on multiple fronts.
ATTR Amyloidosis
There are 3 approved drugs in the ATTR space which are in direct competition with Alnylam's Onpattro offering. These are Vyndaqel and vyndaqel/vyndamax (tafamidis meglumine/tafamidis) from Pfizer ($PFE) and Tegsedi (inotersen) from Ionis.
Pfizer's offering is a small molecule drug that works by stabilizing the TTR protein thereby preventing aggregates from forming. VYNDAQEL (tafamidis meglumine) and VYNDAMAX (tafamidis), are oral transthyretin stabilizers that selectively bind to transthyretin protein, stabilizing the tetramer of the transthyretin transport protein and slowing the formation of amyloid that causes ATTR-CM.
Ionis's offering is like Alnlyam in that it prevents the expression of the protein at the mRNA level, but it uses a different RNA technology called Anti-Sense Oligonucleotide (ASO) to degrade the mRNA strand. You can read our overview of RNA technologies to get a complete picture.  
The image below gives a quick overview of the different steps you can intervene at to reduce the build-up of amyloid fibrils.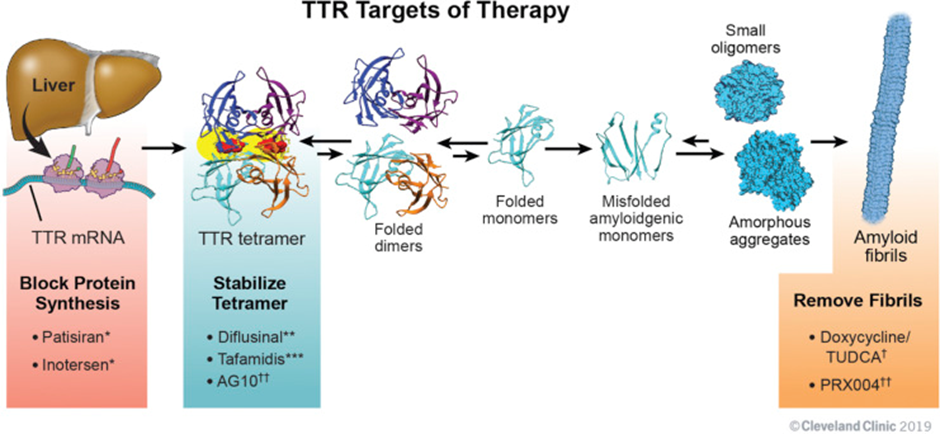 Apart from the 3 approved therapies, there are 5 therapies that we found in development. These are from Ionis & AstraZeneca who are working on another ASO therapeutic with an improved dosing profile, BrideBio Pharma working on a small molecule drug to stabilize TTR protein like Pfizer's offering, Novo Nordisk & Neurimmune AG working on an antibody-based methodology to clear fibrils (Orange box in the image above) and Intellia Therapeutics & Regeneron working on a CRISPR/Cas 9 Gene therapy offering.
ATTR is a competitive disease to be working on as the market is rather lucrative for drug developers. Pfizer's Vyndaqel offering pulls in a reported $2B a year in sales. Indicating the large market that is available for new therapeutics. One therapy we would keep our eyes on would be Intellia's gene therapy offering.
The once-and-done CRISPR treatment for ATTR looks on track to rival the offerings from both Alnylam Pharmaceuticals and Pfizer.
Intellia's NTLA-2001 (ATTR Gene therapy asset) works by editing at the genome level via CRISPR/Cas9. The editing results in the inactivation of the TTR gene preventing the production of the rogue protein. Read our article to learn more about CRISPR.
If NTLA-2001 reports favorable clinical trial results, the 'single dose' medicine can potentially revolutionize the treatment regimen for ATTR patients.
Acute Hepatic Porphyria
In the AHP space, Alnlyam's GIVLAARI offering has limited competition. GIVLAARI prevents the onset of AHP attacks by reducing the levels of an enzyme (ALAS1) thereby preventing the build-up of neurotoxic substances.
There are 2 other two approved hemin products, Panhematin (U.S.) and Normosang (EU) but these are for the treatment of acute porphyria attacks. So the use case compared to Alnlyam's offering is slightly different (prevent attack vs treat after having an attack).
Primary Hyperoxaluria (PH)
OXLUMO faces competition from a few treatment regimens. These include hyperhydration, oral citrate, or dual liver/kidney transplantation.  The first two options are to counterbalance the effect caused by excessing oxalate production. While transplantation is a more extreme measure to take to potentially correct the issue.
The lack of good therapeutic options that are targeting the core of the issue in PH thus leaves a high unmet medical need for a severe and primarily pediatric disorder.
Apart from the above, 5 other companies are working on therapeutic modalities for PH type 1.
| | | | |
| --- | --- | --- | --- |
| Drug | Company | Drug Description | Phase |
| Nedosiran | Novo Nordisk | siRNA to reduce the production of LDHA enzyme | Phase 2 (pivotal) |
| BBP-711 | BridgeBio Pharma, Inc. | GO inhibitor | Phase 1 |
| Oxabact OC5 | OxThera AB | Anaerobic bacteria that metabolize oxalate in the gut | Phase 3 (failed to meet statistical significance) |
| Stiripentol | Biocodex SA | GABA reuptake inhibitor | Phase 2 |
| Reloxaliase | Allena Pharmaceuticals, Inc. | Oxalate-degrading enzyme for enteric hyperoxaluria | Phase 3 (for enteric hyperoxaluria) |
Hypercholesterolemia
Leqvio faces tremendous competition in the hypercholesterolemia space. There are currently 5 approved drugs apart from Leqvio in this space.
Amgen and Sanofi offer anti-PCSK9 antibodies for the treatment of the disorder. The target of these drugs is similar to Leqvio, but the modality is different. Antibodies reduce PCSK9 at the protein level while Leqvio works on the mRNA level to reduce its production. When comparing these drugs, from an efficacy standpoint there are no clear differences between the offerings.
On the administration front, the two modalities have differences. The Amgen and Sanofi offerings allow for self-administration in the comfort of the home but need to be taken bi-weekly. On the other hand, for Leqvio, while administration needs to be done by a healthcare professional, it only needs to be administered once every 6 months after its initial 2 doses. This is quite favorable for patients as well as they don't need to remember to take their bi-weekly injections with the antibody offerings. Both offerings have their advantages giving patients the option to choose.
Other approved drugs include offerings for Amarin Corporation for Omega 3 Lipid, Esperion Therapeutics fatty acid & cholesterol synthesis inhibitor, and Regeneron's Anti-ANGPTL3 antibody for HoFH (familial hypercholesterolemia).
Apart from the approved drugs, there are 3 drugs in development, these are from Arrowhead (siRNA targeting ANGPTL3), Ionis/Pfizer's – ASO therapy for ANGPTL3 both of which are similar to Regeneron target. Lastly, LIB therapeutics is working on a recombinant fusion protein therapeutic composed of the PCSK9 binding domain and human serum albumin.
The high number of approved therapies and new therapies in development give us low confidence about the growth prospects of Leqvio. While the drug has advantages on the dosing side of the equation at the end of the day patients/doctors need to decide on the chosen offering.
That sums up the competition for Alnlylam's currently approved therapeutics in the market.
Other assets
As for the therapeutics in its pipeline, Fiturisan which is in late-stage development for Hemophilia faces a tough competitive landscape. There are 6 approved drugs for this indication with another 6 drugs in phase 3 clinical trials. Alnylam and Sanofi are developing Fiturisan in a partnership that is also in Phase 3 trials. The initial data looks quite promising, but it remains to be seen how the drug stacks up against other offerings and the take-up rate of the drug by physicians if it gets approval. The Hemophilia market is estimated to be worth about $10 billion as such if Fiturisan can capture a part of the market that is not served by current offerings it can add significantly to its topline.
As for the other assets in the pipeline they are still in the early stages of development as such looking at the competitive landscape now doesn't add much value. This is because the Biotech/Pharma industry evolves at a tremendous pace. We will update this section with the relevant information if any other of Alnylam's pipeline assets mature materially.
Management
Alnylam is helmed by CEO, Dr. Yvonne Greenstreet. She joined the RNA drug maker in 2016 as the COO before becoming CEO in 2021. She has over 25 years of experience in the Pharma industry with previous stints in Pfizer and GSK. In essence, Yvonne has been with Alnylam since it received its first FDA approval for Onpattro in 2018.
Helping her on the medical side of things is CMO, Dr. Pushkal Garg. He joined the biotech in 2014 with 15 years of experience in drug development. Before joining the RNA drug maker he was at Bristol Myers Squibb (BMS) and Millennium Pharmaceuticals.

Based on Alnylam's glassdoor review, it seems that individuals are quite happy working in the company. As for the CEO rating, because she just took over less than a year back, she still has no rating, and it remains to be seen what her ratings show.
Financials
Since 2018, Alnylam has seen robust revenue growth. This is on the back of the approval of its first product followed by approvals of its 3 other products.
In 2021, the biotech registered revenue of $844million. This was driven by strong growth in Onpattro and Givlaari which saw revenues increase by 55% and 132% respectively. The approval of Oxlumo also brought in close to $60 million in revenue in its first year. As for revenue from the collaborations, this totaled $181million for 2021. Despite the strong revenue growth, Alnylan reported losses on its bottom line to the tune of $853 million. This is mostly because of high R&D expenditures as biotech invests to develop new assets.
More recently the RNA drug maker reported its 9 months 2022 results on 27th October 2022. Revenue for nine months came in at $702 million up 20% year on year. The growth was driven by net product revenues which stood at $632.6 million up 36.4% year on year. A break up of the product revenue can be seen in the image below.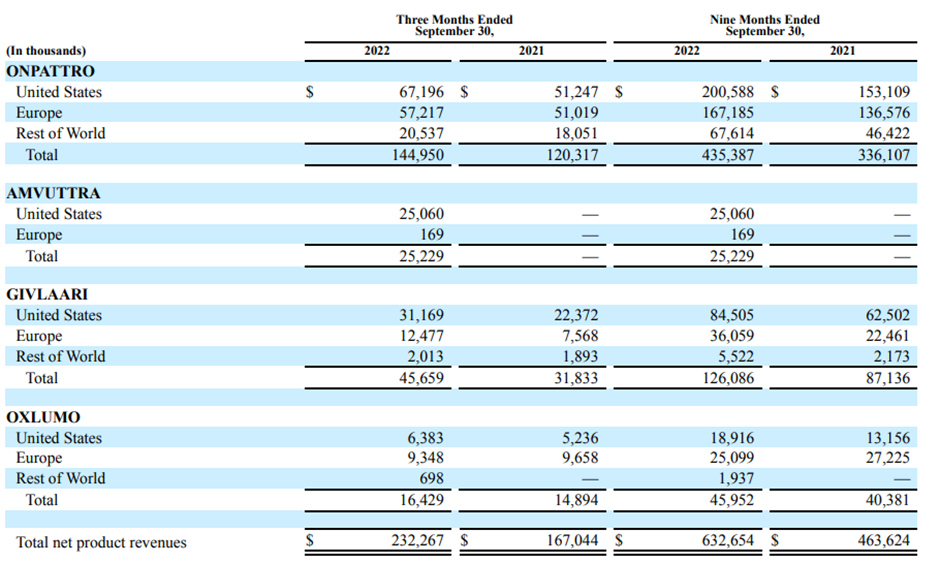 On the bottom line, Alnylam reported a loss of $923.6 million, driven by increases in R&D and SG&A expenses.
At the end of the quarter, the biotech had cash and equivalents of $2.27 billion and convertible debt of $1.01 billion. The strong balance sheet should help see the biotech through the next two years before they need to raise more cash or find a way to be cashflow positive.
On the guidance front, Alnylam guided for full-year product revenue between $870 million to $930 million and collaboration and royalty revenue of $100 million - $150 million. The drug maker expects to still be loss-making this year as expected.
Valuation
Looking at the numbers, if I were to value Alnylam today, I would use a simple price-to-sales (P/S) multiple method and add back the cash the company holds. We would consider the other assets in the company's portfolio as free, providing investors with potential upside if approved.
1) Based on guidance for net product sales of $870 million I would use a multiple of 10X (The average P/S ratio for the biotech and pharma industry is 6.67 & 4.75, we are using a much higher multiple) due to the strong growth the company is reporting, this gives me a value of $8.7billion.
2) The company has a net cash position of $1.26 billion.
3) As such fair value for the company would stand at roughly $10 billion. This would give us a per share (122,166,000 shares) price of approximately $81.85.
Risks
1) Competition risk. The biotech industry is a highly innovative market with discoveries being made consistently. If a new technology were to be developed which could improve the efficacy or safety profile of the current products this could lead to a substantial loss of market for Alnylam. Additionally, Alnylam's main product in the TTR space is highly competitive with multiple drugs approved and more in trials.
2) Patent expiry. While Alnylam's patents are only expected to expire in the 2030s, it is not an immediate risk at the moment. However, if there are challenges on the patent that might lead to early loss of the patent. While it is tough to make any predictions, it's something investors should keep an eye on as loss of exclusivity can lead to accelerated revenue decline for the products.
3) Failure to get approval for new drugs. While Alnylam is investing heavily to develop new drugs in the pipeline, the success of these programs is far from guaranteed. If the RNA drug maker is unable successfully bring new drugs to market its revenue growth will be lackluster and it is unlikely, they will be profitable. Also, once the patents on their current drugs run out the company will have no competitive advantages.
Wrapping it up
Alnylam is a pioneer in the RNAi space and has developed multiple products for various diseases. In the last 3-4 years the RNA drug marker has received approval for 4 products. Its first and highest revenue-generating drug is Onpattro which is indicated for TTR amylolysis (ATTR). While the drug has been performing well, it faces tough competition from 3 other approved drugs and 5 more in late-stage trials. Also, investors should keep a close eye on Intellia's CRISPR/CAS 9 gene therapy offering if approved.
While its offering is the only one on the market (to some extent) for Acute Hepatic Porphyria (GIVLAARI) and Primary hyperoxaluria (OXLUMO), it faces a level high level of competition for OXLUMO with multiple trials ongoing. Based on its latest results, Givlaari's strong growth continued into 2022, but Oxlumo seems to have slowed down.
As for Leqvio, the drug is being marketed by Novartis. With the drug getting approval only at the end of 2021, Novartis reported Q3 sales of $34M and growing adoption. It remains to be seen if Leqvio will be the treatment of choice for PCSK9 patients considering there are 5 other approved drugs and 3 more in clinical trials. One clear advantage for Leqvio will be its dosing frequency which should appeal to individuals.
As for its pipeline assets, most of these are still in the early stages of development as such it is too early to speculate on their approval. Alnylam is also seeking label expansions on some of its approved drugs, these will likely help to bolster revenue growth if approved.
Beyond the liver, Alnylam is working on a delivery platform that will allow it to use its RNA platform to target diseases in other regions, these are still in the early stages of development and will need to be monitored.
Looking at the financials, Alnylam is currently loss-making. They have a net cash position of $1.1billion which should see them through the next 1-2 years. Beyond this, it would probably need to raise new capital, take on additional debt or become free cash flow positive.
Finally, Alnylam also mentioned in its latest earnings call that it is reconsidering its phase 3 trial for Stargardt disease (label expansion for Amvuttra) as it re-evaluates the impact of the inflation reduction act. If its drugs were to be affected by the change in Medicare policy, it might limit potential price increases in the future thereby putting downward pressure on revenue growth.
Overall, we feel Alnylam is over-valued at these prices. We would need to see continued growth for its key drugs and a clear plan to cash generation to gain higher conviction, until then we plan to wait patiently on the sidelines and track its progress.

If you reached here, it probably means you enjoyed reading the post. We suggest you hit the subscribe button so you do not miss out on any of our future posts. Click here to Subscribe now.
Disclaimer: All opinions shared in this article are the opinions of the authors and do not constitute financial advice or recommendations to buy or sell. Please consult a financial advisor before you make any financial decisions.