1. Novo Nordisk (NVO)
Novo reported a strong quarter as they continue to hold a dominant position in diabetes and obesity. Year to Date (9 months) results below:
Revenue: $128.8B (DKK +16%, US +21%, International +11%)
Op profit: $57.7B DKK +14%
Net profit: $41.9B
FCF: $62.5B DKK
The key growth drivers are summarized below: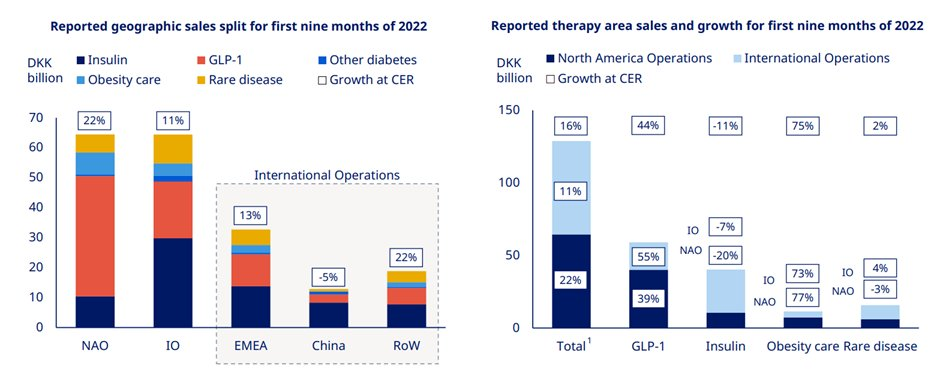 Novo Nordisk continues to gain market share in diabetes which now stands at 31.6%. While GLP1 saw strong growth on the back of the Ozempic launch in 75 countries & Rybelsus up take. Similarly, international sales growth was also driven by strong GLP1 performance.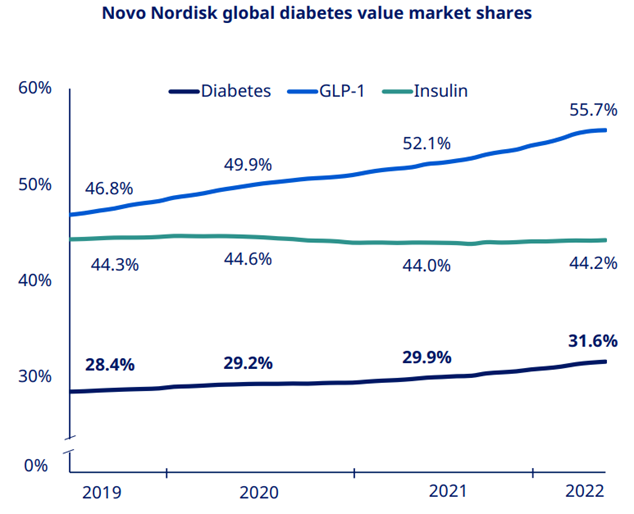 Obesity care sales grew 75% driven by both US and international. This was on the back of strength of Wegovy.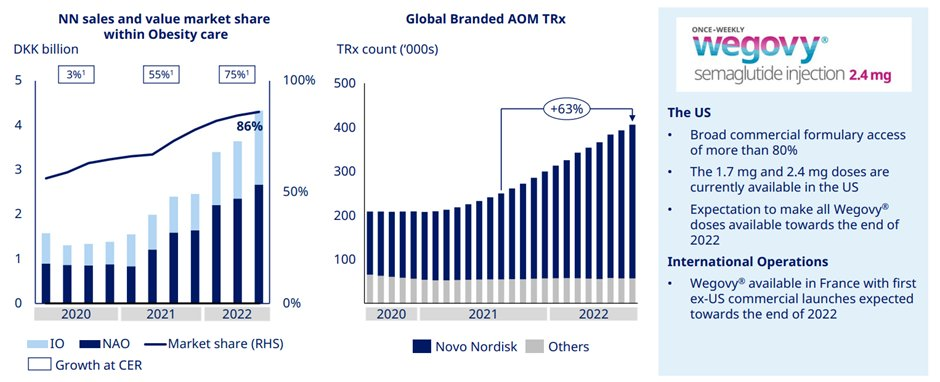 In the rare disease business, Novo saw growth of 2% driven by international operations. Rare blood disorder sales increased 6% while rare endocrine disorder sales decreased 6%.
Within R&D, Novo Nordisk successfully completed a phase 2 trial of CagriSema in individuals with type 2 diabetes and the last phase 3a trial with once-weekly insulin Icodec. With FDA submission targeted for H123. Novo's R&D goals can be summarized as the image below.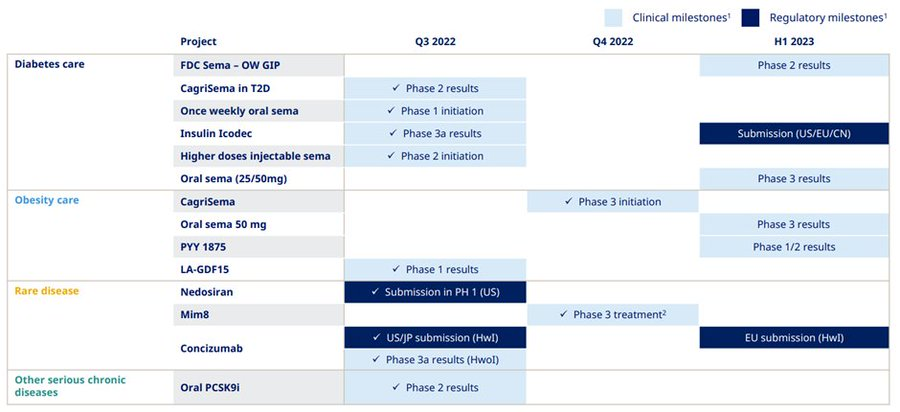 With the renewed guidance for the year, Novo shared that sales growth is now expected to be between 14-17% at CER with operating profit growth expected to be between 13-16% at CER.  
Summing it up, strong growth in diabetes and obesity is expected to continue on the back of its GLP1 and Wegovy assets. In the long run, Novo has multiple assets in development which should ensure continued growth well into the future.
2. Eli Lilly (LLY)
Eli Lilly (LLY) reported a strong set of results in its third quarter.
Revenue came in at $6.94B up 2%, similarly, net income increased 31% to $1.45B. Growth came on the back of strong volume-based growth (14%) worldwide, in addition to strong initial uptake of the biotech's recently launched medicines, including Mounjaro.
The key growth drivers were Verzenio which skyrocketed 84%, Trulicity up 16%, Mounjaro which was just launched, Jardiance growing 47%, Taltz up 15%, Emgality grew 20% and, Retevmo increasing 21%.
Lilly shared that its products Verzenio, Taltz in dermatology, & Jardiance outpaced competitors' growth of market share. They also mentioned the strong demand for Trulicity was partially due to the ongoing limited availability of competitive GLP-1 drugs and continues to challenge their ability to meet expanding demand in most international markets.
Eli Lilly stated it is focused on two areas of high unmet need to improve patient outcomes - Obesity and Alzheimer's disease.
In obesity, Eli Lilly's Mounjaro (tirzepatide) was approved on 13 May 2022 and has seen strong uptake for the treatment of type 2 diabetes. Refer to the image below shared in Novo Nordisk's (NVO) presentations.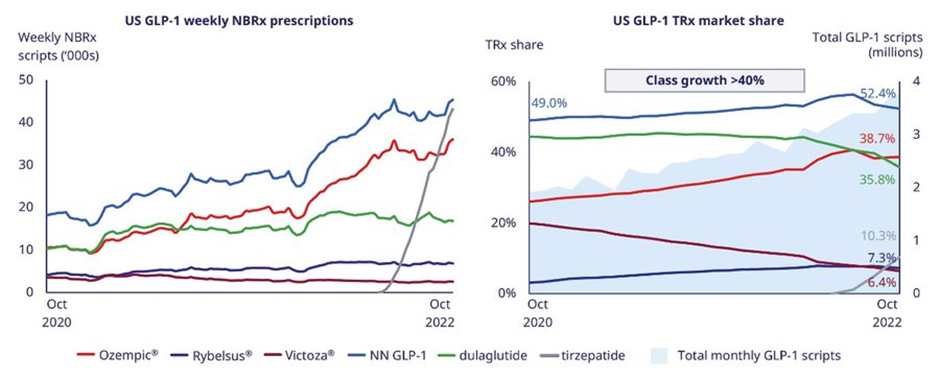 Eli Lilly has trials ongoing for the use of Mounjaro (tirzepatide) in obesity or overweight with weight-related comorbidities individuals. If approved this will be a huge market for Eli Lilly.
Over in Alzheimer's disease, Lilly's phase 3 study for donanemab continues to progress toward a top-line readout in mid-2023, with the biotech working with the FDA to pursue an accelerated approval.
Apart from the above, Eli Lilly announced the completion of the submission for lebrikizumab in atopic dermatitis in both the U.S. and the EU.
On the business side of things, Lilly will be investing to expand its manufacturing footprint to meet the growing demand for its current & future products. Additionally, it acquired Akros and aims to accelerate efforts to innovate gene therapies for disabling hearing loss.
Continuing on the business, Lilly stated that revenue from COVID-19 antibodies, we be dependent on demand, and COVID-19 antibody sales will not be a major driver for long-term growth for Lilly.
On guidance, Lilly reduced topline guidance by $300M and EPS by approximately 8% due to unfavorable exchange rates. EPS reduction also reflects the impact of the intangible asset impairment for GBA1 Gene Therapy (PR001) as well as additional net losses on investments in equity securities during Q3 2022.
Summing it up, Eli Lilly shared that it has completed submissions for donanemab, pertibrutinib, mirikizumab and could potentially see 4 new medicine launches between now and the end of 2023. This should offset the loss from Alimta's patent expiry in the U.S. and generics entry which will erode Alimta sales starting mid-Q2 23.
With its key products growing strongly, and a robust pipeline of assets in various stages of development, Eli Lilly should continue to see growth on the top and bottom lines.
3. Regeneron (REGN)
Regeneron (REGN) reported a strong quarter with revenue growing 11% ex Covid (-15% YoY including COVID). This was on the back of growth in all 3 key assets - Eylea +3%, Dupixent +40%, and Libtayo +20%.
The biotech generated $2.85B in free cash flow and had a solid balance sheet with $12.99B in cash & equivalence and $2.7B in debt and lease liabilities.

Regeneron announced label expansion for Dupixent with approval to treat adult patients with prurigo nodularis - this is a first-in-class medication for the disease.
Similarly, Eylea was accepted by the FDA for review to treat retinopathy of prematurity in preterm infants and Regeneron reported positive results from its Eylea 8mg trials for diabetic macular edema (DBE) and wet AMD.
On the oncology front, Libtayo received a positive EMA opinion as a monotherapy for adult patients with recurrent &metastatic cervical cancer. Regeneron also reported positive phase 2 data Libtaya for neoadjuvant cutaneous squamous cell carcinoma (CSCC)
Moving to other programs, Regeneron initiated phase 3 trials for garetosamab in fibrodysplasia ossificans progressiva (FOP).  Other assets in development are in early stage development (Phase 1/2)
Moving to look at the business side of things, Regeneron obtained exclusive rights to develop, commercialize & manufacture Libtayo worldwide. They paid $900M upfront to Sanofi (SNY) with additional future payments of $100M based on reg milestones and $100M based on sales milestones.
On the R&D pipeline, Regeneron shared the expected data disclosures for the next 2 years, which can be found in the image below.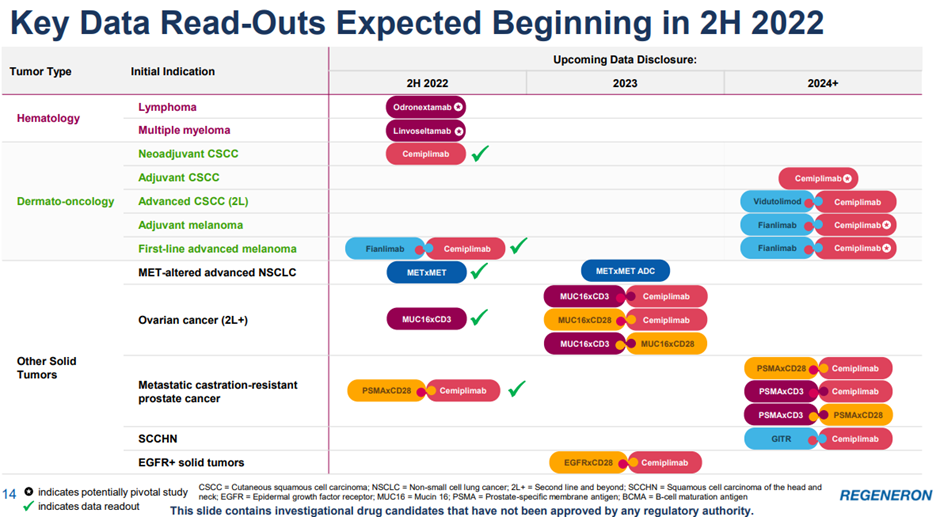 Wrapping it up, Regeneron bought back $913m of stock during the quarter with $1.186B remaining, indicating the strength of their balance sheet. The biotech can easily cover its debt with its cash balances which put it in a great position considering the rising interest rate environment.
The biotech reported a strong set of results with strong growth in both Dupixent and Libtayo. Eylea's patent expires in 2025/2026 but Regeneron seems to have found another blockbuster in Dupixent which will easily cover the potential loss of revenue from Eylea in the future. The biotech also has 35 pipeline assets which if approved should easily allow the drug maker to grow well into the future.
If you reached here, it probably means you enjoyed reading the post. We suggest you hit the subscribe button so you do not miss out on any of our future posts. Click here to Subscribe now.
Disclaimer: All opinions shared in this article are the opinions of the authors and do not constitute financial advice or recommendations to buy or sell. Please consult a financial advisor before you make any financial decisions. The authors do not hold positions in any of the mentioned securities.