Deep Dives
Is Vertex Pharmaceuticals the next blue chip biotech?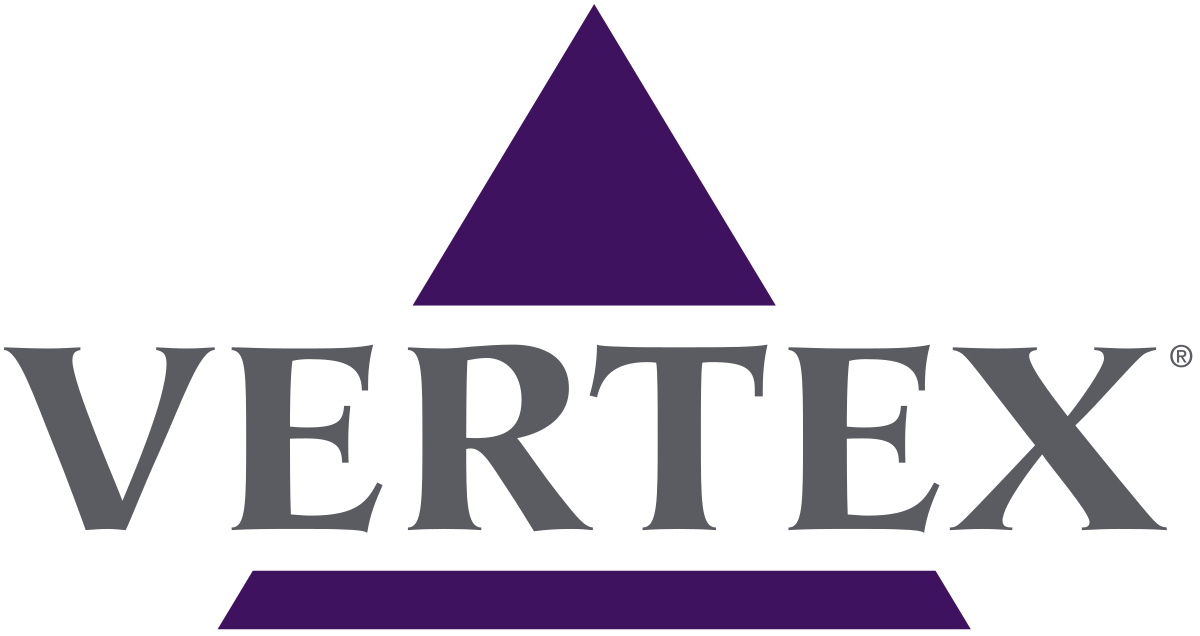 History of Vertex
Vertex was founded in 1989 by Joshua Boger and Kevin J. Kinsella to "transform the way serious diseases are treated".
The company's initial successes in anti-viral therapies (HIV and Hepatitis C) were short-lived due to stiff competition. This forced the company to pivot to survive, but like the saying goes "only during hard times do you find your feet" is exactly what happened with Vertex.
Vertex pivoted to focus on cystic fibrosis and this bet has paid off handsomely for the company. On the back of the company's success in cystic fibrosis, it is now expanding its wings to develop therapies for other serious diseases.
Cystic Fibrosis Overview
Cystic fibrosis is a life-threatening genetic disease. In these individuals, mutations in the cystic fibrosis transmembrane conductance regulator (CFTR) gene result in a defective and/or reduction in the amount of CFTR protein the body makes. The absence/reduction in the protein results in poor flow of salt and water into and out of cells which can have undesirable downstream consequences. Many different types of mutations can cause cystic fibrosis.
You can refer to our RNA article here to understand the central dogma which explains the pathway from DNA to protein.
Due to the nature of the disease, there are multiple methods via which rectification can be made to either correct the mutation or produce the protein.
1) CFTR correctors – A correct is a small molecule drug that binds to the mutated CFTR protein correcting its 3D shape and improving its ability to function properly. The correctors also allow the CFTR protein to traffic to the cell membrane where the protein can perform its function.
2) CFTR potentiator – This is a small molecule drug that holds the channel gates open so chloride can flow through the cell membrane.
3) mRNA therapeutics – Introducing functional mRNA copies of the CFTR gene into the cell which would allow expression of functional CFTR protein. This could also allow for treatment of patients do who not express the CFTR gene for who the other treatment methods would not work.
4) Gene therapy – Correcting the mutations in the CFTR gene in the patient to allow functional expression of the CFTR protein.
Vertex's unstoppable cystic fibrosis franchise
Vertex started its foray into cystic fibrosis in 1998.  Fast forward to 2022 and the drugmaker has amassed a portfolio of 4 drugs in this space with little competition and non-existent competitive threats on the horizon. In addition, Vertex's key patents which are protecting its latest drug – Trikafta only expire in 2037 giving the company 15 years to enjoy this exclusivity.
Vertex's CF portfolio came to life with the approval of Kalydeco in 2012. The molecule behind Kalydeco is Ivacaftor, a CFTR potentiator that was indicated for use to treat patients with the G551D gene mutations.
Orkambi received FDA approval only three years later in 2015 and is a dual combination therapy consisting of Ivacaftor and lumacaftor (CFTR corrector) This therapy was indicated for use in patients with the F508del mutation, which is one of the most common mutations amongst individuals suffering from CF.
In 2018, Vertex got approval for Symdeko another dual combination treatment made up of tezacaftor (CTFR corrector) and ivacaftor. A graphical explanation of the two drugs' mechanism of action is shown below.

Trikafta a triple combination drug composed of elexacaftor/tezacaftor/ivacaftor got approved in 2019. This is a combination of two CFTR correctors and one CFTR potentiator. The drug is indicated for use in patients with at least one F508del mutation.
The sale of these four drugs makes up 100% of Vertex's revenue currently. We will look at the company's financials later in the article.
Apart from the four approved drugs which are currently marketed by the company, the drugmaker has a phase 3 clinical trial ongoing for a new triple combination therapy. This combination therapy consists of VX-121, tezacaftor which are both CFTR correctors, and an altered version of ivacaftor which the company named VX561 (for the science geeks it is deuterated ivacaftor). The key benefit of this formulation would be that patients would only need to take their pills once a day as opposed to the current dosing regime which requires patients to take pills in the morning and evening.
Investors should also note that VX561 is essential for Vertex, this is because the Ivacaftor drug is going off patents in 2027 and 2025 in US and EU respectively. While the company is hoping to get a patent life extension this is not guaranteed, as such, they are innovating around the molecule with the improved VX561 molecule.
Vertex is also in the early stages of development of an mRNA therapeutic for CF in collaboration with Moderna (see image below) using a two-pronged approach. It also has collaborations with CRISPR therapeutics, Arbor Biotechnologies, and Affinia Therapeutics to develop CRISPR-based therapeutics for the disease indication.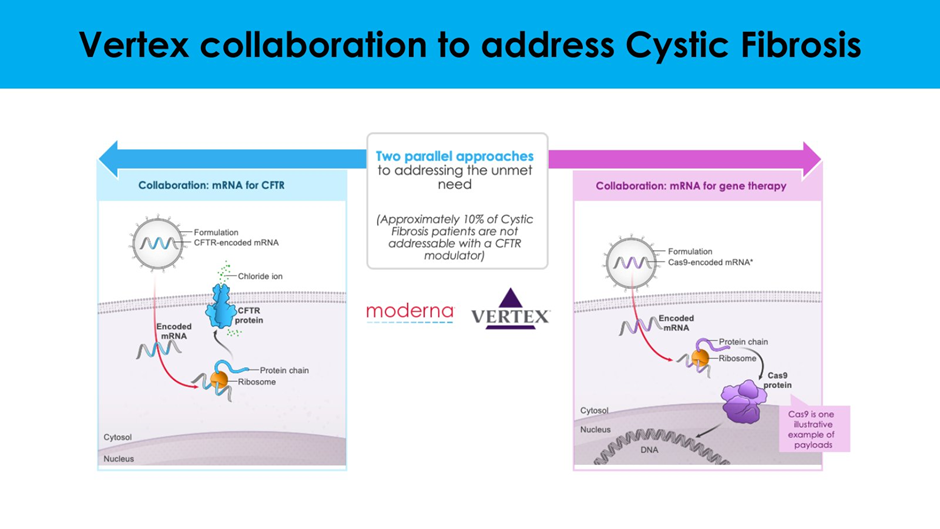 Vertex's continued investment in developing better therapeutics for CF patients shows that the company is not resting on its laurels despite being the only player in the space.
Investors should however note that the new drugs being developed by the company in the CF space is likely to have diminishing returns. This is because the current offerings can treat 90% of CF patients.
On the competitive front, while the CF space is dominated by Vertex, other large drug makers are keen to enter the space and have been innovating in the space with their own formulations. One keen competitor is Abbvie, who purchased Galapagos and its CF franchise. However, the company reported in Apr 2022 that it is dropping this asset due to a lack of improvement over the current offering. A detailed review can be found here.
In June 22, Carbon Sciences, a Massachusetts start up raised $38million in funding to develop a gene therapy for CF. They were funded by Agent Capital, the venture arm of Japanese drugmaker Astellas, Cystic Fibrosis Foundation and Longwood Fund. As Carbon is just starting up, a keen eye would need to be kept on them to follow their progress. However, at this point it doesn't seem like they are going to pose much of a threat to Vertex who is also working to develop its own gene therapy offering to capture the remaining market.
A promising pipeline of future assets
Over the years, Vertex has plowed profits from its CF franchise to build up an ambitious pipeline of potential new drugs. This is essential to allow the drugmaker to continue to prosper after its CF franchise patents expire in 15 years. While this might sound like a long time, the typical timeline for drug discovery & development spans between 8-10 years. As such, Vertex is being prudent by starting early.
Vertex has built up pipeline programs in a few different disease areas. These include pain, diabetes, and specialty diseases like sickle cell disease, beta thalassemia, Duchenne muscular dystrophy, alpha-1 antitrypsin deficiency, pain, and APOL1-mediated kidney diseases.
The most advance of these programs is in Pain, Diabetes, APOL1-mediated kidney diseases, and Sickle cell/Beta-thalassemia.
Developing non-opioid therapeutics for pain management
For the pain program, Vertex announced compelling phase 2 results for its VX-548 asset in March 2022. This was the drugmaker's fourth shot at finding a therapy for acute pain and resilience seems to have paid off for now. Then in July 2022, the company announced that it is moving this asset into phase 3 trials with initiation in Q4 2022.
VX-548 is a NaV1.8 (Voltage-gated sodium channel) inhibitor that prevents sodium influx from the extracellular space, thereby preventing the transmission of pain signals to the brain. In the Phase 2 study, Vertex tested the efficacy of the drug on patients who had a tummy tuck or bunion surgery and patients reported significant pain reductions. The first-in-class inhibitor even outperformed Hydrocodone bitartrate, an opioid that is routinely prescribed post-surgery. More details about this program can be found here and here.
Looking at the competitive landscape, as of March 2022, there were a total of 6 Nav1.7 and Nav1.8 therapeutics in various stages of clinical development. However, in April 2022 the only other Nav1.8 inhibitor reported that it did not meet its endpoints in its phase 2 trials. This means VX-548 is currently the only molecule specifically targeting Nav1.8.
The pain market is a billion-dollar market, and Vertex seems to be well positioned to grab market share in the non-opioid pain relief market if its magic molecule can deliver promising results.
Looking ahead, based on research reports, combination therapy of NaV1.7 & NaV1.8 inhibitors might be a potent combination for pain management. I wouldn't be surprised if Vertex plans to move in this direction in the future.
Storming onto the kidney disease market with an inhibitor
Moving to APOL-mediated kidney disease, VX-147 is an APOL1 inhibitor. The asset is currently in a phase2/3 adaptive study following positive data for the asset in a phase 2 trial which was reported in December 2021. Additionally, the asset was granted breakthrough designation by US FDA and Priority medicines (PRIME) designation by the EMA in June 2022.
One drawback currently is that positive phase 2 data reported by Vertex was for use in a rare kidney disease, focal segmental glomerulosclerosis (FSGS) which is estimated to affect about 7 in a million people. In the US, it is estimated that about 40,000 individuals are affected by FSGS, while in the UK it is estimated at 60,000.
On the competitive front, there are a total of 6 drugs currently in phase 2 and 3 clinical trials for FSGS but VX-147 stands out as it is the only APOL1 inhibitor.
While the FSGS market will be attractive, the biotech is investigating the potential for VX-147 to be used in other kidney diseases which will increase the drugs use case.
Removing the need for insulin injections for an individual with type 1 diabetes
Vertex is working to develop a stem cell therapy for islet replacement in individuals who suffer from type 1 diabetes. In these individuals, damaged islet cells in their pancreas don't release insulin after they eat, which is essential to control the sugar levels in the body.
The off-the-shelf offering being developed is called VX-880. In October 2021, Vertex announced interim results from the first patient treated with half the dose of VX-880. The dosed patient responded positively to the treatment with evidence of insulin production with limited insulin provided via injections.
Another update on the progress of the trial was shared by the drugmaker in June 2022. Like the first patient, the second dosed patient also reported the ability to make its insulin and relied less on injections. While the response rate was not as remarkable as the first patient, the results indicate that the therapeutic modality is moving in the right direction. Details of the data can be found here.
Despite positive data from this trial, Vertex is not sitting back and hoping that all will go well. Instead, it recently acquired ViaCyte in a US$320M acquisition.
ViaCyte is a regenerative medicine company focused on developing cell replacement-derived therapies for diabetes.  The company has 3 products in its pipeline all targeted at diabetes treatment. Reshma Kewalramani, CEO of Vertex commented " VX-880 has successfully demonstrated clinical proof of concept in T1D, and the acquisition of ViaCyte will accelerate our goal of transforming, if not curing T1D by expanding our capabilities and bringing additional tools, technologies, and assets to our current stem cell-based programs".
Our view is that this acquisition seems rather prudent as it will bring the highly experience ViaCyte scientific team together with the complementary assets and technologies into the Vertex family where they can work to develop a promising solution that can change the lives of individuals living with type 1 diabetes.
Apart from the combination of assets and capabilities, the acquisition also makes sense from a business perspective, as Vertex is effectively removing one competitor from the market. More on this can be read here.
While it is still very early in the development of VX-880 and other assets brought in by ViaCyte, if Vertex can develop a promising offering for diabetes patients it will have a large market to grow into as current options are limited to exogenous insulin administration.
Solving blood disorders together with CRISPR Therapeutics
Vertex has partnered up with CRISPR therapeutics to develop gene-therapy solutions for individuals suffering from sickle cell disease and Beta-thalassemia. I would point readers to our deep dive article on CRISPR therapeutics in which we have covered the development of this asset in detail. The article can be found here.
Additionally, the most recent Vertex development is the licensing agreement for an electroporation platform from MaxCyte (MXCT) which will be used to develop exa-cel. Details released were limited, but MaxCyte sells four versions of its benchtop electroporation systems, so this agreement is probably about scaling up production for exa-cel as they are looking to bring the gene-therapy offering to the market soon.
Competition-wise, investors need to note that multiple companies are working on blood disorders. CRISPR's asset is currently the most advanced, however, as newer technologies are adopted to treat the diseases, the safety, and durability of the treatments will be key to determining which one is widely adopted.
Wrapping it up, Vertex has an ambitious pipeline of assets that it is working hard to develop. Investors should keep in mind that there are no guarantees that any of Vertex's candidates, will become blockbuster drugs. But given the company's track record, the chance of success seems above average.
Management Team
At the helm of Vertex is Dr. Reshma Kewalramani who is trained as a medical doctor. She has over 15 years of experience developing new medicines. She is also on the board of multiple other organizations in the STEM industry.
She is supported by Dr. David Altshuler, CSO who is a seasoned drug hunter and developer. He was on the board of directors from 2012-14 before joining Vertex as CSO. In 2021, he was named one of the top 20 most influential R&D executives in drug development by Endpoint News.
The company fairs very well on Glassdoor as well. With 83% of employees saying they would recommend working in the company. Also, the CEO approval rating is 90%.

Financials (Updated 4th August 22)
Vertex published its second-quarter results on 4th August. The pharmaceutical company earned just under $2.2 billion, a robust 22% improvement over the same period of last year.
Non-GAAP (adjusted) net income saw a dramatic rise, increasing by a factor of over 20 to hit $930 million, or $3.60 per share. The increase was because Vertex made a one-time payment of $900 million to Crispr Therapeutics in the prior year.
The results handily beat analyst estimates which stood at $2.1 billion for revenue and $3.49 for adjusted, per-share net income.
Vertex's growth was powered by its blockbuster drug, Trikafta. The cystic fibrosis treatment brought in just under $1.9 billion for the period, which was 51% higher year over year.
Sales of the drugmakers' three other approved drugs, however, fell compared to the same period of 2021. This was not unexpected as patients shift to the company's more potent combo drug, Trikafta.
On the back of a healthy quarter, Vertex raised its full-year guidance. It now believes it will earn $8.6 billion to $8.8 billion in product revenue for 2022. Expenses should come in between $3.0 billion to $3.1 billion, up from the preceding estimate of slightly over $2.8 billion to $2.9 billion. No bottom-line guidance was provided, but based on the company's past track record, over 40% revenue should be profits.
Looking at the balance sheet, Vertex has a cash stockpile totaling $9.25 billion as of June 31, 2022, with no debt on its books. Moving to free cash flow, the company reported that it generated $1.98 billion in the first half of the year.
Overall, the company is seeing strong growth in its current suite of products that should continue for the foreseeable future. The drug maker is also innovating with multiple trials ongoing in its pipeline.  If any of those are successful, it should help to add to the healthy revenue growth and give investors confidence in Vertex's future.
Valuation
Let's take a quick look at the valuation for Vertex so we know if the company is over or underpriced. I will be using a simple FCF multiple methodology and adding back the company's cash to derive its valuation.
1) TTM Free Cash flow - $3.86 Billion (30 June 2022)
2) Because Vertex's core product is an essential that patients cannot do without, I would be comfortable assigning it a ratio of between 15-17.
3) Plus, I would add back the company's cash holding of $9.25 billion.
4) This gives me a total valuation of between $67.15 billion – $74.87 billion. The company had 258.7 million shares outstanding as of 30 June 2022.
5) This implies a price per share between $259.50 - $289.40.
This we believe would be a fair price to pay for the company for its current product portfolio which should continue to see strong uptake while regarding any upside from the company's pipeline developments as a bonus.
Wrapping it up
Vertex should be able to continue delivering solid sales growth on the back of its go-to treatment which has entrenched Vertex's dominant market position in CF. It is also working on new drugs in this space which should allow it to capture the uncaptured market and fuel growth.
A potential near-term catalyst for Vertex is likely to come as it expects to file for regulatory approvals of exa-cel in treating sickle cell disease and transfusion-dependent beta-thalassemia later this year.
The biotech's long-term growth prospects also look great. Vertex's pipeline features three other candidates in late-stage studies.
It's an experimental triple-drug combo that could be Vertex's most powerful CF drug yet. VX-147 targeting APOL1-mediated kidney disease. This indication has more patients than CF. VX-548 a non-opioid therapy targeting NaV1.8 could also be a game changer if successful. Lastly, Vertex has an early-stage program that holds the potential to cure type 1 diabetes.
The biggest risk for Vertex and its shareholders is probably that one or more of its pipeline programs flops in clinical testing. However, every stock comes with some risks.
Our view is that Vertex provides an appealing risk-reward proposition at the right price for investors who have a long-time horizon. If the company can successfully gain approval for one or two of its pipeline assets, the biotech will effectively be de-risked as the company will buy itself more time to find its third or fourth blockbuster drug.
If you reached here, it probably means you enjoyed reading the post. We suggest you hit the subscribe button so you do not miss out on any of our future posts. Click here to Subscribe now.
Disclaimer: All opinions shared in this article are the opinions of the authors and do not constitute financial advice or recommendations to buy or sell. Please consult a financial advisor before you make any financial decisions. The authors do not hold positions in any of the mentioned securities.