History
Novo Nordisk was founded in 1989 following the merger of Nordisk Insulinlaboratorium and Novo Terapeutisk Laboratorium. The story of Nordisk Insulinlaboratorium began on an autumn day in 1922 when August and Marie Krogh arrived in the United States. August Krogh was a professor at the University of Copenhagen and received the Nobel Prize in physiology in 1920. During the couple's lecture tour through the US, Marie Krogh convinced her husband (August) to meet two Canadian scientists who had discovered insulin. After that meeting, August licensed the technology and brought it back to Denmark. Together with the license and following the recruitment of Hagedorn, Nordisk Insulinlaboratorium was born.
When Krogh and Hagedorn began to manufacture insulin at Nordisk in 1923, they agreed that Harald Pedersen was the right man to build the machines they needed for insulin production. Harald Pedersen was an unusually talented inventor who had worked for Krogh for several years as manager of the mechanical workshop at the Zoophysiology Laboratory. Harald's brother, Thorvald Pedersen, was a pharmacist who was later hired by Nordisk to analyze the chemical processes involved in insulin production. The two brothers' work for Nordisk did not last very long, however. Thorvald Pedersen did not get on with Hagedorn, and in April 1924 things came to a head and Hagedorn fired him. Out of loyalty to his brother, Harald Pedersen decided to hand in his notice to Krogh.
The Pedersen brothers started their own company named Novo Terapeutisk Laboratorium, and on 16 February 1925, they sent a letter of introduction to Danish pharmacists, informing them that Insulin Novo and the Novo Syringe were now on sale. That date is regarded as the date on which Novo was founded
By the end of the 1980s, Nordisk had become the world's third-largest insulin manufacturer and one of the world's largest manufacturers and exporters of human growth hormone. Novo had become the world's second-largest manufacturer of insulin and the world's largest manufacturer of industrial enzymes.
After competing against each other for over 6 decades, in January 1989 came news that Nordisk Gentofte A/S and Novo Industri A/S were joining forces under the name of Novo Nordisk A/S making it the world's leading manufacturer of insulin. The decision to merge was made because cooperation between the two companies' strong research units would increase the possibility of developing new products within diabetes treatment and allow intensified research in other areas. Moreover, the two together would have the size and strength to improve their competitiveness in international markets.
Following the merger, the company developed new types of insulin, including long-acting insulin, which provided more stable and effective blood sugar control for patients. Then in the 1990s, NVO expanded its research and development efforts into other areas of chronic disease treatment, including obesity, growth hormone deficiency, and bleeding disorders. The company also established a strong presence in the biopharmaceutical industry, developing and manufacturing protein-based drugs.
Today NVO is a global company with operations in over 80 countries. The company's primary focus remains on diabetes care, but it has also expanded into other areas of healthcare, such as obesity, hemophilia, and growth hormone deficiency. The company's business can be broken down into four units – Diabetes, Obesity, Rare diseases, and other serious chronic diseases.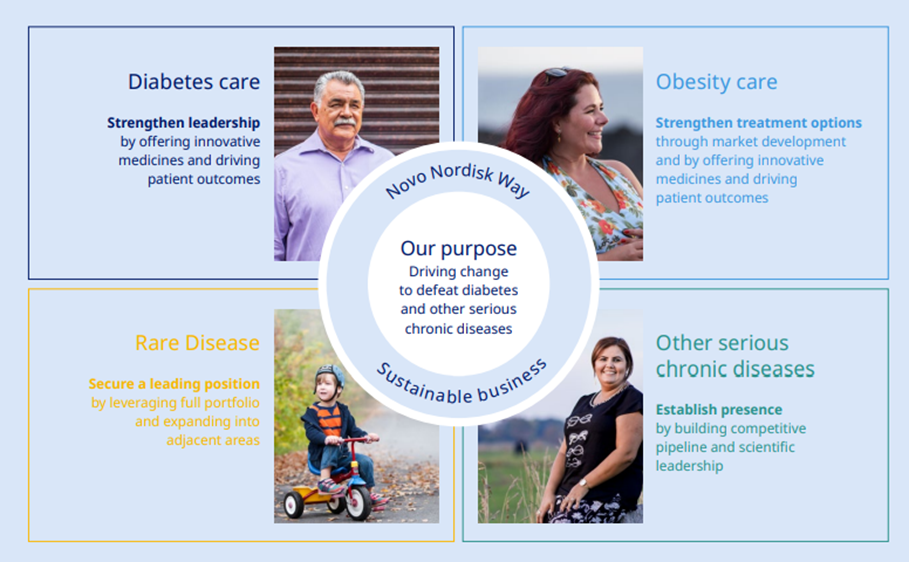 Novo Nordisk is committed to finding innovative solutions to improve the lives of people living with chronic diseases. The company mentioned in its annual report:
We are committed to providing therapies for patients with diabetes, obesity, and other serious chronic conditions, including hemophilia and growth hormone disorders.