Sarepta Therapeutics (NASDAQ:SRPT) was founded by Marwan Fawaz in 1980 with the mission of developing precision genetic medicines for the treatment of rare neuromuscular diseases.
Fast forward to 2022 and Sarepta Therapeutics is a pioneer in Duchenne muscular dystrophy (DMD) therapy with three FDA-approved RNA therapies to treat this genetic disease.
The biotech also has a diverse portfolio of 40+ ongoing programs which spans the development of unique RNA-targeted therapeutics and gene therapy modalities.
Based on Sarepta's pipeline programs, the biotech is focused on two diseases, Duchenne muscular dystrophy (DMD) and limb-girdle muscular dystrophy (LGMD). This is seen in the fourteen pipeline therapies in development for DMD and six for LGMD.
What are Duchenne muscular dystrophy (DMD) and Limb-Girdle Muscular Dystrophy (LGMD)?
DMD is the most common type of muscular dystrophy. It is a rare X-linked genetic disorder affecting children (primarily males) that are characterized by progressive muscle deterioration and weakness.
Duchenne is caused by an absence of dystrophin, a protein that protects muscle cells, this happens because of a mutation in the gene encoding for a protein. The mutation in the gene results in the production of non-functional dystrophin or could result in no production at all. A lack of dystrophin leads to significant cell damage and ultimately causes muscle cell death and fibrotic replacement. The symptoms of DMD include progressive weakness and loss (atrophy) of both skeletal and heart muscles.
It has been reported that the central region (exons 45–55) of the dystrophin gene is the most frequently mutated with an estimated 1 in 3000/5000 males born worldwide suffering from various mutations. The most common of the mutations which are amendable by exon 51 skipping make up approximately 13% of the population followed by 8% each for mutations amendable by exon 53 and exon 45 skipping.
Moving to look at LGMD, it is the 4th most common type of muscular dystrophy. LGMDs are genetic diseases that cause progressive, debilitating weakness and wasting that begins in muscles around the hips and shoulders before progressing to muscles in the arms and legs. There are currently no therapeutics available for this genetic disease.
LGMD can be grouped into 34 different subtypes depending on the protein affected by the gene mutation. Some examples of the different types would be LMDG2C, 2D, and 2E caused by a mutation in the sarcoglycans protein which prevents muscle damage during contraction, or LMGD2A which is caused by an enzyme deficiency that leads to waste build-up in muscle cells.
Sarepta Therapeutics RNA Technology Overview
Sarepta's primary products are based on phosphorodiamidate morpholino oligomer (PMOs) a technology that was licensed by the company from the University of Western Australia (UWA).
PMO-based compounds are synthetic compounds that bind to complementary sequences of RNA via standard Watson-Crick nucleobase pairing. Two key structural differences exist between PMO-based compounds and naturally occurring RNA (see image below):
1) PMO nucleobases are bound to synthetic morpholino rings instead of ribose rings,
2) The morpholino rings are linked by phosphorodiamidate groups instead of phosphodiester groups.
These modifications are important as they help to improve the stability and half-life of the therapies by eliminating linkage ionization at physiological pH and preventing degradation of PMO compounds by plasma and intracellular enzymes.
The mechanism of action for PMO compounds is achieved by steric blockade rather than degradation which is used by other RNA-targeted technologies such as siRNAs and DNA gapmers. You can read more about the different types of RNA technologies here.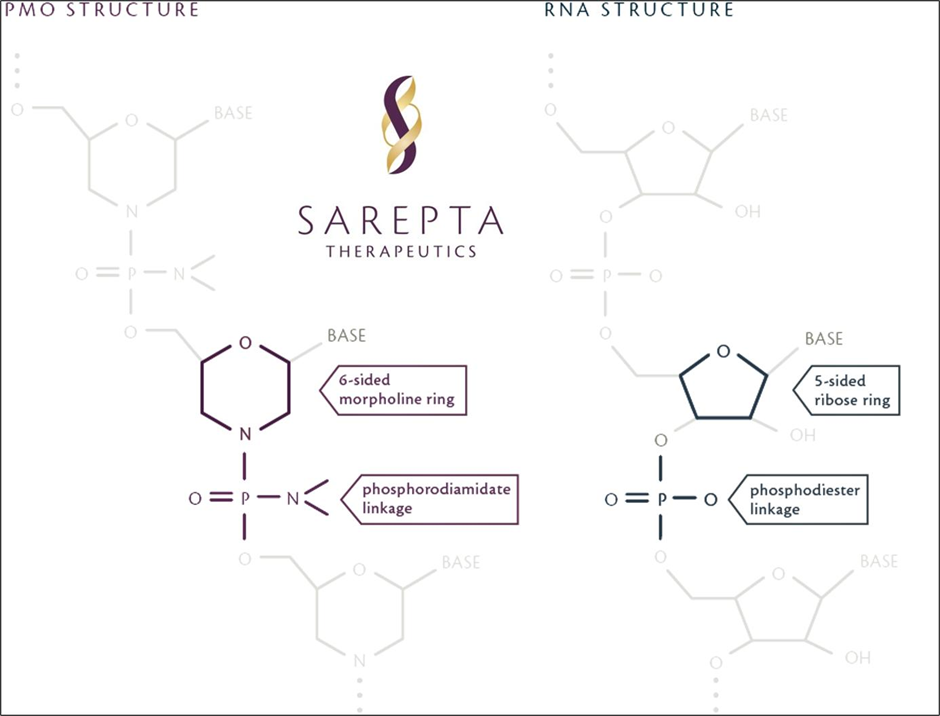 Sarepta's Approved Products
Sarepta has three FDA-approved products which are indicated for DMD patients amendable by exon 51, exon 53, and exon 45 skipping.
The first product to get approval was EXONDYS 51. Exondys 51 is a PMO-based compound indicated for the treatment of DMD in patients who are amenable by exon 51 skipping - see image below.
As seen in the image below, due to exon 49 & 50 missing in this example, the dystrophin protein is unable to fold correctly resulting in a dysfunctional protein. Because of the nature of the binding, the only way to correct this mutation is to remove exon 51 as well, this will allow exon 48 and exon 52 to bind in a functional manner. As such, the exon-skipping of exon 51 will allow the production of a shortened functional dystrophin protein.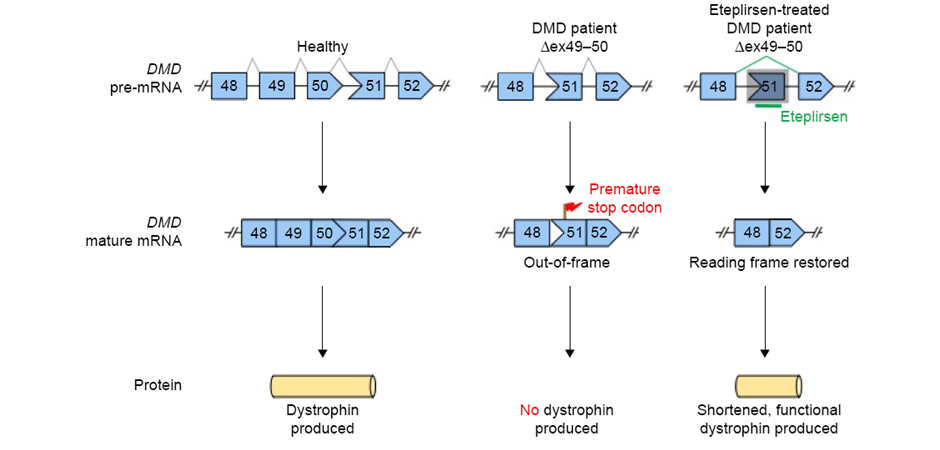 As Exondys 51 was the first drug to be approved for the treatment of DMD, the FDA granted accelerated approval for the therapy based on increased production of dystrophin in the skeletal muscle of some patients. As such, Sarepta needs to obtain continued approval for the therapeutic contingent upon verification of a clinical benefit in confirmatory trials.
VYONDYS 53, and AMONDYS45 are the two other approved PMOs developed by Sarepta which are indicated for the treatment of DMD in patients amendable by exon 53 and exon 45 skipping respectively. Both these therapeutics like its predecessor was approved under accelerated approval based on an increase in dystrophin production in skeletal muscle. As such, these two drugs also require continued approval, contingent upon verification of a clinical benefit in confirmatory trials.
Due to DMD being an orphan disease, Sarepta received Orphan Drug Exclusivity for all three drugs with expiry in September 2023 for Exondys 51, December 2026 for Vyondys 53, and February 2028 for Amondys 45.
On the patent front, Sarepta has a US patent for Exondys 51 and a Europe patent for Vyondys 53 which expires in 2034. The company also has licensing agreements for the licensing-in of the core PMO technology with the University of Western Australia and these patents expire in 2030.
Sarepta also stated that they have filed for additional patents in the US and foreign markets that if granted will expire only in 2038.
Competition for Approved Products
Currently, in the DMD space, there is only one other FDA-approved drug which was developed by Nippon Shinyaku (VILTEPSO [viltolarsen]) indicated for the treatment of patients amendable to exon 53 skipping. Viltepso also has approval for use in Japan which is currently its main market. While Nippon has not entered the US market yet which is the main market for Sarepta, it has announced plans to pursue global registration for Viltepso.
Apart from Nippon, other companies have indicated an interest in developing drugs for DMD. Some of the competitors are as follows:
1) Wave Life Sciences ("Wave") announced the discontinuation of its exon 51 skipping product in 2019.  It then announced in September 2021 that it initiated dosing in Phase 1b/2a clinical trial evaluating WVE-N531, its exon 53 skipping product candidate.
2) PepGen Inc recently announced positive phase 1 data for PGN-EDO51 for its lead asset in development for Exon 51 skipping. PepGen has innovated on the delivery mechanism called Enhanced Delivery Oligonucleotide (EDO) which leverages cell penetrating peptides to improve penetration and tissue targeting.
Their pipeline also consists of Exon 53, Exon 45 and Exon 44 skipping assets which are currently in the discovery stage using their delivery platform. The EDO delivery mechanism is highly similar to Sarepta's SRP-5051 asset which is currently being developed and in Phase 2 trials (Details below).
3) Daiichi Sankyo is sponsoring a Phase 2 clinical trial of DS-5141b, a trial conducted in Japan for its exon 45 skipping oligonucleotide candidate
4) Solid Biosciences, LLC ("Solid") is investigating its micro-dystrophin gene transfer product candidate for Duchenne, SGT-001, in clinical trials. This could be a potential competitor to Sarepta's SRP9001 program which is currently in clinical trials.
5) Pfizer has a phase 3 clinal trial ongoing for its AAV-9 / mini-dystrophin gene transfer product candidate (PF-06939926) for Duchenne. Pfizer has faced numerous obstacles with this program. The program has been halted twice by the FDA, once for severe side effects and the second time due to the death of a patient. Like Solid Biosciences this is a potential competitor to Sarepta's SRP9001 program.
Our view is that we wouldn't be too worried about competition now as Sarepta's main revenue driver is Exondys 51 which is currently the only drug in the market allowing for exon-51 skipping. Also, for its Amondys 45 product the company does not face any competition in the near term. For Vyondys 53, competition will come if Nippon enters the US market, however, there is no clear indication at this point when this might happen.
Looking out longer term, Sarepta is not sitting on its laurels, it is innovating at breakneck speed with a total of 14 ongoing pipeline programs for DMD with 2 in the clinical phase of development.
Key Pipeline programs
Sarepta's lead pipeline product, SPR-5051 is the next-generation peptide-conjugated phosphorodiamidate morpholino oligomer (PPMO).
Due to the shortcomings in the PMO-based compounds such as poor cell uptake, rapid renal clearance, poor delivery to cardiac (heart) muscles, and frequently repeated doses of PMOs required for functional benefit. Sarepta established a new platform called PPMO.
Sarepta shared the following about the PPMO technology in its 10K filling:
The PPMO technology is an improvement to the PMO technology and features a covalent attachment of a cell-penetrating peptide to a PMO with the goal of enhanced delivery into the cell. In pre-clinical research, PPMO compounds demonstrated an increase in dystrophin production and a more durable response compared to PMO. In addition, PPMO treatment in non-human primates results in high levels of exon-skipping in skeletal, cardiac, and smooth muscle tissues. Pre-clinical trials also indicate that PPMOs may require less frequent dosing than PMOs and that PPMOs could potentially be tailored to reach other organs beyond muscle.
Based on Sarepta's phase 2 clinical trial, the company said that SPR-5051 saw enhanced cell penetration, exon-skipping, and dystrophin levels at a lower dose compared to Exondys 51 therapy. As such, the new drug (SRP-5051) is meant to be a more potent successor to Sarepta's approved drug - Exondys 51.
However, early this year, FDA suspended US testing of Sarepta's Duchenne drug, SRP-5051 over safety concerns as one patient in the SRP-5051 trial had experienced notably low magnesium levels, which can lead to heart risks and seizures.
Recently, FDA lifted the clinical hold on Sarepta's DMD Trial following protocol adjustments. This short pause should hopefully not hold up the scheduled primary completion date for SRP-5051 which is estimated to be September 30, 2023.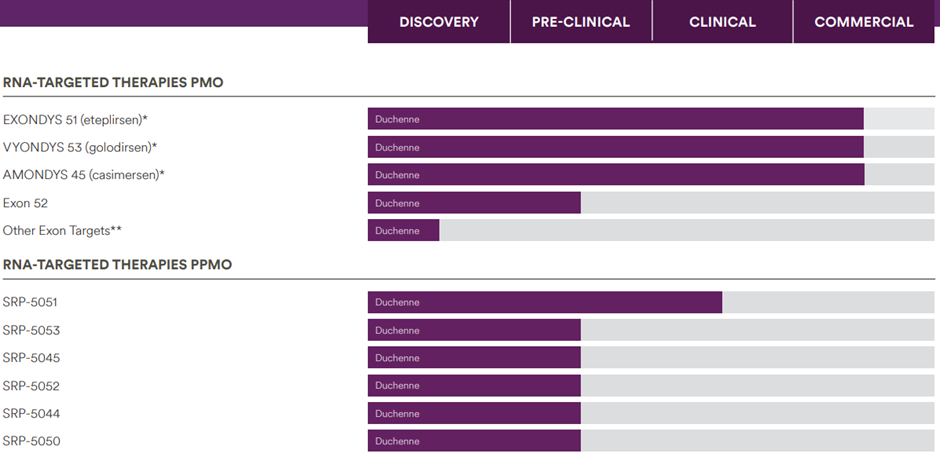 Apart from SRP-5051, Sarepta is developing SRP-9001 a gene therapy-based treatment option for DMD patients. This therapy is developed in collaboration with Nationwide Children's Hospital and Genethon.
SRP-9001 aims to express micro-dystrophin, a smaller but still functional version of dystrophin. This strategy is employed because naturally occurring dystrophin is too large to fit in an AAV vector.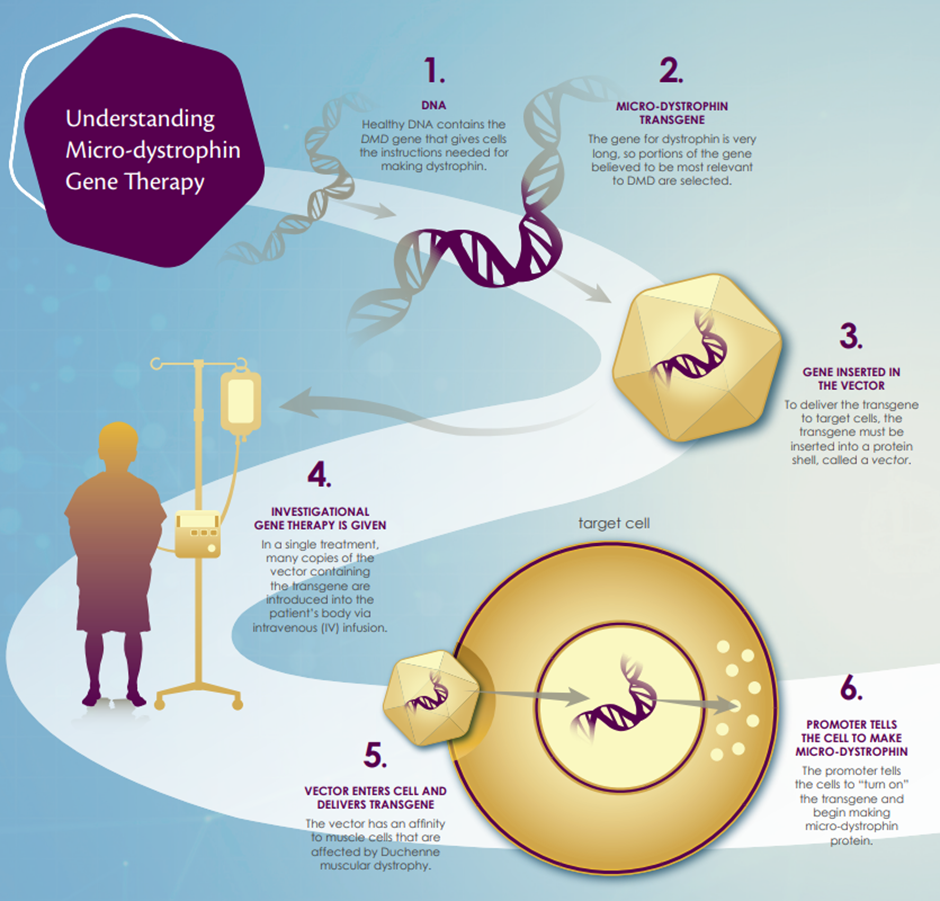 Sarepta shared the following about the selected vector: "The selected AAV vector (AAVrh.74) is designed to be systemically and robustly delivered to the skeletal, diaphragm, and cardiac muscle without promiscuously crossing the blood-brain barrier, which we believe makes it a strong candidate to treat peripheral neuromuscular diseases. An MHCK7 promoter was chosen for its ability to robustly express in the heart, which is critically important for patients with Duchenne, who typically die from pulmonary or cardiac complications. Lastly, the transgene was designed to maintain spectrin-like repeats 2 and 3, which has been reported to be critical to maintaining muscle force."
Sarepta has completed phase 1 and 2 clinical trials for this asset which indicated improved motor and walking function in 4–7-year-olds. Following the announcement of the phase 2 data in July 2022, Sarepta announced that they intend to submit the data to FDA to obtain an accelerated approval biologics license for SRP9001. Sarepta is currently running a phase 3 trial for this asset.
The accelerated approval will be on the back of the FDA awarding SRP-9001 fast track designation, which is intended to speed up the review of applications for experimental therapies designed to fill an unmet need for treating serious conditions. The FDA has also given the therapy a rare pediatric disease and orphan drug designations.
Limb-Girdle Muscular Dystrophy Pipeline
Sarepta has five LGMD gene therapy programs in development, for subtypes LGMD2E, LGMD2D, LGMD2C, LGMD2B, and LGMD2L, and holds an option for a sixth program for LGMD2A.
SRP-9003 is the most advanced pipeline program by Sarepta for the treatment of LGMD2E (also known as beta-sarcoglycanopathy and LGMDR4), a devastating monogenic neuromuscular disease caused by a lack of beta-sarcoglycan (beta-SG) proteins.
SRP-9003 is a gene therapy modality that can enter a skeletal and cardiac muscle, delivering a gene that codes for the full-length beta-SG protein. It uses the AAVrh74 vector and MHCK7 promoter, like SRP9001. This asset has completed phase1/2 trials and Sarepta mentioned that it expects to complete the GMP runs in 2022 and plans to meet FDA for discussions about the pivotal trials.
The MHCK7 promoter has been chosen for its ability to robustly express in the heart, which is critically important for patients with limb-girdle muscular dystrophy Type 2E (LGMD2E), also known as beta-sarcoglycanopathy and LGMDR4, many of whom die from pulmonary or cardiac complications.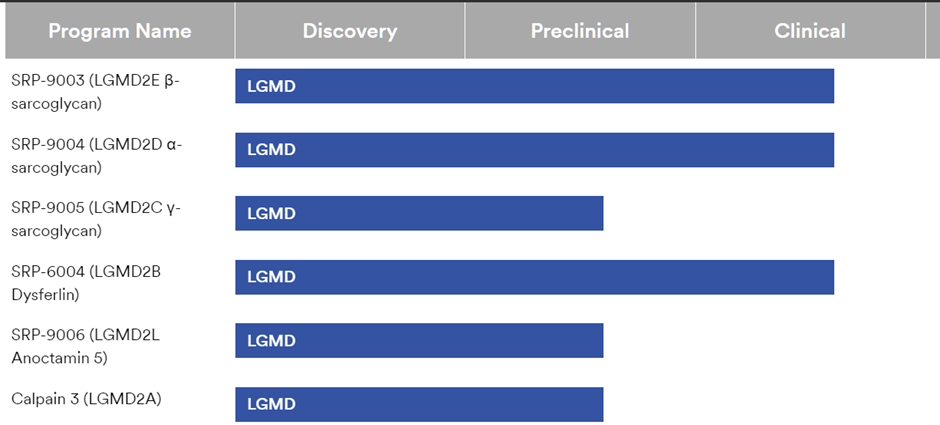 On the competition front for LMGD, there are a handful of companies working on developing therapeutics but due to a large number of subtypes, Sarepta currently doesn't face any competition for the subtypes they are working on. Evaluate Pharma mapped the drug development activities in this space back in March 2022 and the table can be seen below.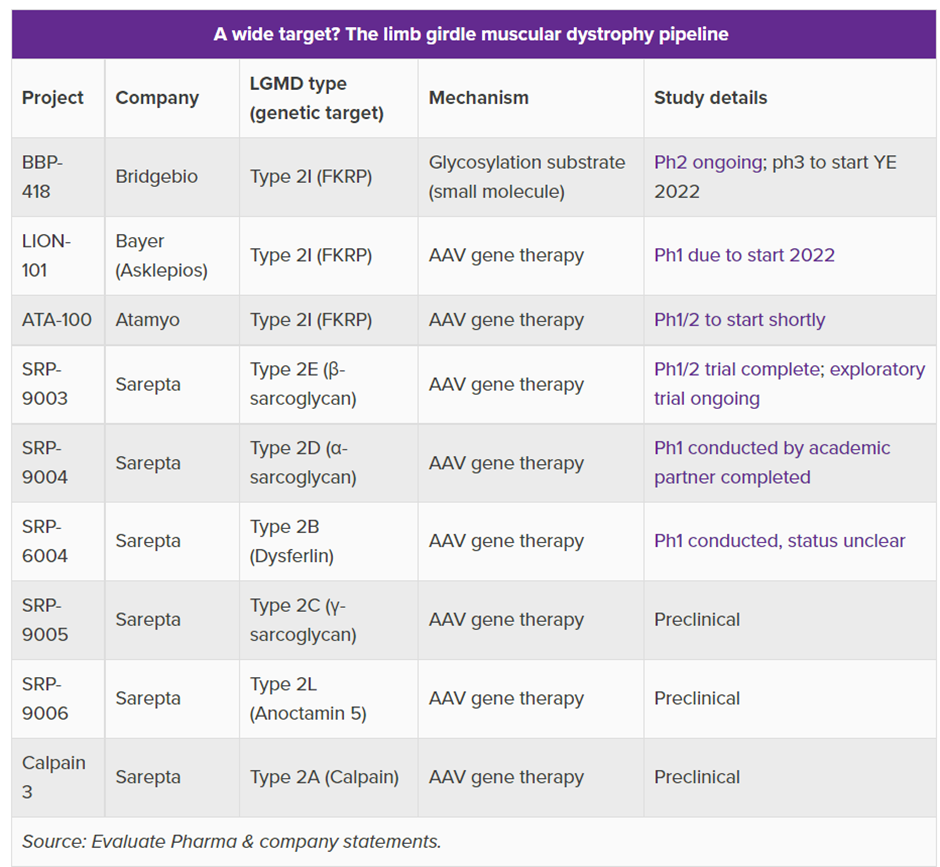 Other indications and partnerships
Apart from working on DMD and LGMD which are the key diseases areas Sarepta is focusing on, the biotech has 11 other early-stage programs ongoing for a variety of diseases with a number of partners. The image below gives a snapshot of these assets in development.

On the strategic partners front, the company has a partnership with Roche which has signed a licensing agreement to commercialize SRP9001 outside of the US. For this right, Sarepta received $750 million in cash and $400 million in exchange for shares in Sarepta. Sarepta is also eligible to receive $1.7 billion in regulatory and sales milestones plus royalties on net sales.
The company also has strategic alliances with Nationwide Children's Hospital, Duke University, Genethon, and StrideBio for the development of therapeutics for different diseases (refer to the table above).
Overall, with a total of 40 ongoing pipeline programs for various diseases with a focus on DMD and LGMD, Sarepta is positioning itself strategically to allow for continued growth.
Management
Sarepta is helmed by Douglas S. Ingram who became CEO in 2017. He has over two decades of experience in pharma-biotech with previous stints at Allergan, Actavis, and Chase pharmaceutical.
Helping him on the scientific front is Louise R. Rodion-Klapac, CSO who joined Sarepta in 2018. She comes with deep knowledge of neuromuscular biology and was pivotal in designing the company's late-stage gene therapy candidates. And is also the inventor of 5 of Sarepta's limb-girdle muscular dystrophy programs, which are part of our gene therapy engine approach to treating multiple genetic diseases. Overall, her work has led to 11 investigational new drug applications.
In terms of shareholding as of 19 April 2022, insiders at Sarepta own a total of approximately 6.4% of shares with CEO Douglas S. Ingram owning 1.7% of shares outstanding. We feel this is significant ownership in the company and aligns management's interests with minority shareholders.
Using Glassdoor as a proxy to determine if the company is well run. We can see from the image that 84% of employees would recommend the company and 97% approve of the CEO (as of Oct 2022).

Financials
Since the approval of Exondys 51 in 2016, Sarepta has seen strong revenue growth year on year. FY2017 was the first year with sales with the company registering revenue of $155M which has ramped up to $702M as of the end of 2021, indicating a CAGR growth rate of 45.8%.
Looking at the three products individually, Exondys 51 is the key revenue driver for the biotech now due to a larger patient pool benefiting from this therapeutic. Also, Exondys 51 is currently the only therapeutic option in the market for patients amendable to exon 51 skipping. Vyondas 53 is seeing strong year-on-year growth as seen from the table below, while Amondys 45 which was approved in early 2021 is seeing a healthy revenue ramp.

Similarly, for the first half of 2022, the biotech reported approximately 49% growth in its net product sales and guided FY22 with net product sales expected to be between $825M-840M indicating growth of 34%, and total revenue of $905M-920M indicating growth of 23% at the low ends.
Despite the strong revenue growth at the bottom line, Sarepta is still loss-making. This is mostly because the biotech is heavily investing in research and development activities. If we look at the research expenditure breakdown, we can see that Sarepta is focusing its efforts on bringing to market micro-dystrophin therapeutic (SRP9001). It also has ongoing costs for its approved drugs as Sarepta needs to get continued approval for these drugs as they received fast-track approval.
Apart from that, the company is investing in developing its LMGD pipeline assets (other gene therapies) and the PPMO platform which will allow the biotech to develop its next generation of RNA therapeutics with improved penetration, distribution, and lower dosing frequency.

Based on the company's reported half-year results, the breakup of R&D expenditure has not changed compared to the end of last year.
Looking at the R&D expenditure, we get confidence that the company is working on innovating and keeping its lead in the DMD market. This is essential as any competitors entering the market will lead to price wars and margin erosion.
Moving to look at the balance sheet, Sarepta's cash & equivalents and short-term investments stood at $1.94B while debt stood at $1.1B, resulting in a net cash position of $840M.
The drug marker is also still burning cash every year as it works its way to generating free cash flows to support its business.
Risks
1)    Competition risk -The biotech industry is a highly innovative market with discoveries being made consistently. If a new technology were to be developed which could improve the efficacy or safety profile of the current products this could lead to a substantial loss of market for Sarepta
2)    Continued approval for 3 main products - As Sarepta was granted accelerated approval, they must continue to provide FDA with updates on the status of the products until full approval is granted. This is essential as Sarepta is depending on approval to continue sales of its three products.
Valuation
Looking at the numbers, if I were to value Sarepta today, I would use a simple price to sales (P/S) multiple method and add back the cash the company holds. We would consider the other assets in the company's portfolio as free, providing investors with potentially significant upside if approved.
1)    Based on guidance for net product sales of $805M, I would use a multiple of 10X due to the strong growth the company is reporting, this gives me a value of $8.05B.
2)    The company has a cash balance of $840M.
3)    As such fair value for Sarepta would stand at roughly $8.9B. This would give a per share (87,511,000 shares) price of approximately $101 for Sarepta's (SRPT stock) stock.
Wrapping it up
Sarepta Therapeutics is at the forefront of the DMD exon-skipping market and is innovating on new RNA therapies targeting other mutations, as well as working to discover and develop gene-therapy-based treatments in DMD to keep its lead and LGMD which currently has no approved drugs.
The company is innovating on two fronts:
1) RNA platforms via PPMOs. PPMOs are expected to be more effective than PMOs because of the ability of cell-penetration peptides to increase the distribution, facilitate internalization, reduce dosing frequency and allow cardiomyocyte entry. The biggest challenge for PPMOs will be determining safe and effective doses as such the toxicity of PPMOs will require caution when moving into the clinic.
2) Gene therapy via Micro-Dystrophin delivery. This discovery and development effort is essential as currently approved therapeutic options only work in 30% of the patient population. This means there remains a significant unmet need in the DMD space for growth.
With a total of 40 ongoing pipeline programs for various diseases, we believe that Sarepta is well positioned to become profitable in the foreseeable future and register continued growth.
If you reached here, it probably means you enjoyed reading the post. We suggest you hit the subscribe button so you do not miss out on any of our future posts. Click here to Subscribe now.
Disclaimer: All opinions shared in this article are the opinions of the authors and do not constitute financial advice or recommendations to buy or sell. Please consult a financial advisor before you make any financial decisions.