Deep Dives
Thermo Fisher Scientific (TMO) Deep Dive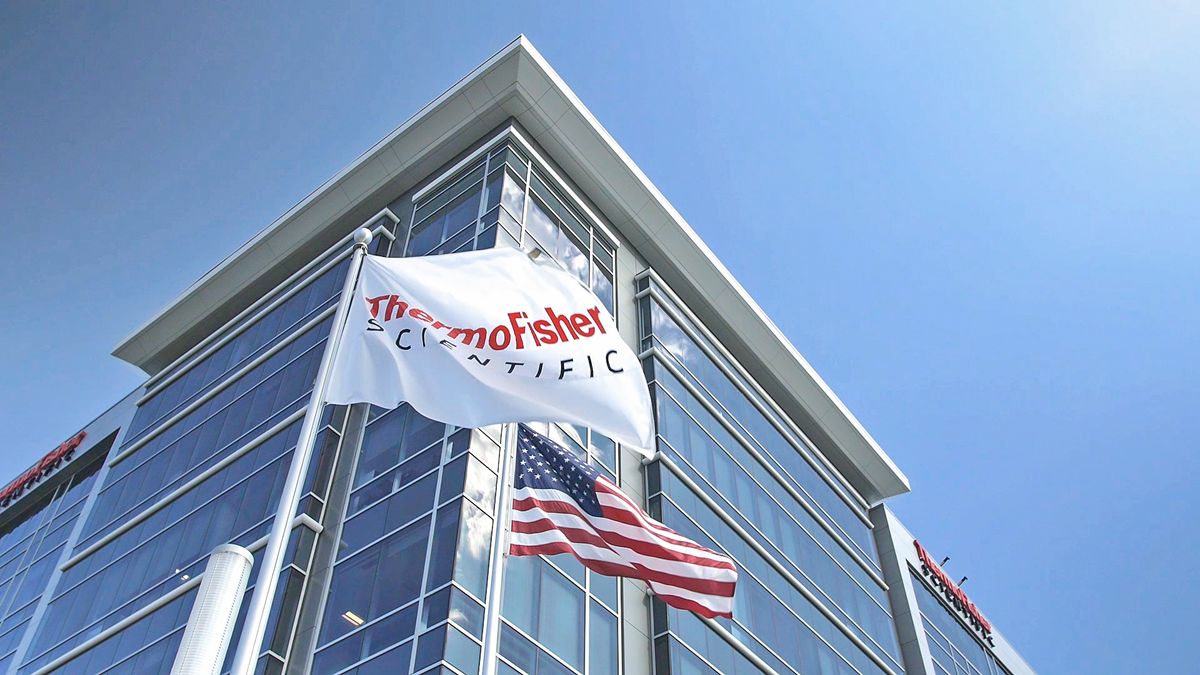 Thermo Fisher Scientific is a global leader in the biotechnology industry, providing a wide range of products and services to customers in the pharmaceutical, diagnostics, and environmental testing markets. The company is known for its advanced technology and innovation, and it has a strong focus on helping its customers achieve their scientific goals through the use of high-quality products and services.
History
Thermo Fisher was founded in 2006 from the merger of Thermo Electron (incorporated in 1956, a major provider of analytic instruments) and Fisher Scientific (founded in 1902, focuses on laboratory supply). Following the merger, the combined companies had approximately US$9 billion in combined revenue and 30,000 employees. Fast forward to today and Thermo Fisher is a life science juggernaut with more than 100,000 employees and almost $45 billion in revenue.
In less than 20 years, Thermo Fisher has grown to become a Fortune 500 company, with operations in more than 75 countries around the world.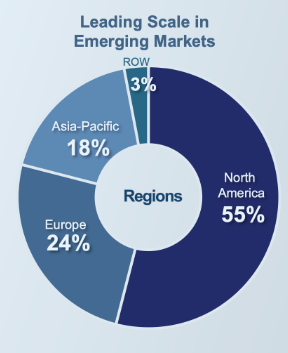 The company's products and services span a wide range of scientific disciplines, including genomics, proteomics, cell biology, clinical diagnostic testing, and environmental testing. Thermo operates in these verticals through its leading industry brands such as Thermo Scientific, Applied Biosystems, Invitrogen, Fisher Scientific, Unity Lab Services, Patheon, and PPD.
Thermo Fisher is committed to delivering solutions that enable customers to make the world healthier, cleaner, and safer. The company works closely with its customers to understand their needs and develop solutions that help them achieve their scientific goals.
In addition to its products and services, Thermo Fisher is also known for its commitment to sustainability, ethical business practices, and social responsibility. The company has a strong focus on reducing its environmental impact and supporting the communities in which it operates.
Thermo Fisher's business is broken down into four different divisions: Life Sciences Solutions, Analytical instruments, Specialty diagnostics, laboratory products, and biopharma services. Let's look at each to understand their significance.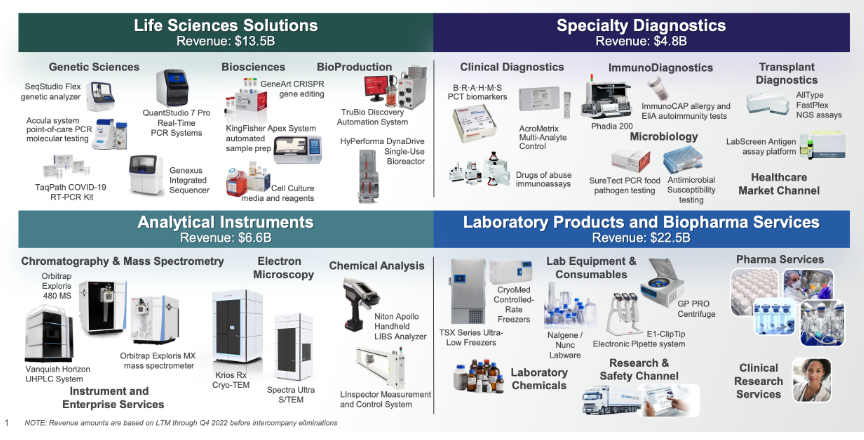 Life Sciences Solutions
The Life Sciences Solutions unit offers a range of products and services, including genomics, molecular biology & proteomics tools, cell culture products, and cell analysis instruments. These products and services can be one-off (eg. buying a PCR machine with a 3-5 year life) or recurring (consumables) purchases.
The products sold under this segment are used for biological & medical research, discovery & production of new drugs and vaccines as well as diagnosis of disease with customers in the pharmaceutical, biotechnology, agricultural, clinical, academic, and government markets.
Looking at this segment, a high volume of recurring revenue is generated through sales of consumable products such as:
● Antibodies and products for protein purification and analysis (High volume consumable)
● Genetic engineering reagents for RNA isolation, stem cell reprogramming, and gene editing & synthesis (Very high volume consumable in molecular labs)
● Cell culture media  (Think about this as blood for growing cells), reagents, and plastics (Very high volume consumable, media needs to be changed every 2-3 days in the lab, and for bioproduction volumes are typically very large. My usage when I was a scientist for 1 project would easily be 1-1.5 bottles a week, so you can imagine)
● Protein analysis products (High volume usage in most molecular labs)
● Genetic sciences such as PCR reagents (Very high volume as DNA is too small to be seen, scientists need to constantly QC their experiments with these reagents)
These are all essential products and the bread-and-butter consumables that most molecular labs would require. The information in the brackets indicates my personal experience using these various products.
Thermo Fisher also offers end-to-end bioproduction services for the development and manufacturing of biologic-based therapeutics (Antibodies, proteins), vaccines, gene therapy (AAV/RNA), and cell-therapy-focused drugs. You can learn more about the above topics from our primer article here.
Some of the key offerings in the bioproduction suite include:
1) Single-use bioproduction solutions that allow for faster turnaround and reduced risk of contamination
2) Production cell culture media solutions. Each bioproduction run is different, thereby requiring different cell culture media compositions. Thermofisher offers both standard media compositions and helps customers customize the media composition if required.
3) Chromatography products are required for the separation and purification of end products such as vaccines, antibodies, proteins, and antibody fragments.
4)  Rapid molecular products that deliver accurate results in less than four hours for contaminant detection, identification, and quantitation.
5) Scalable solutions for the manufacture of cell therapy-based drugs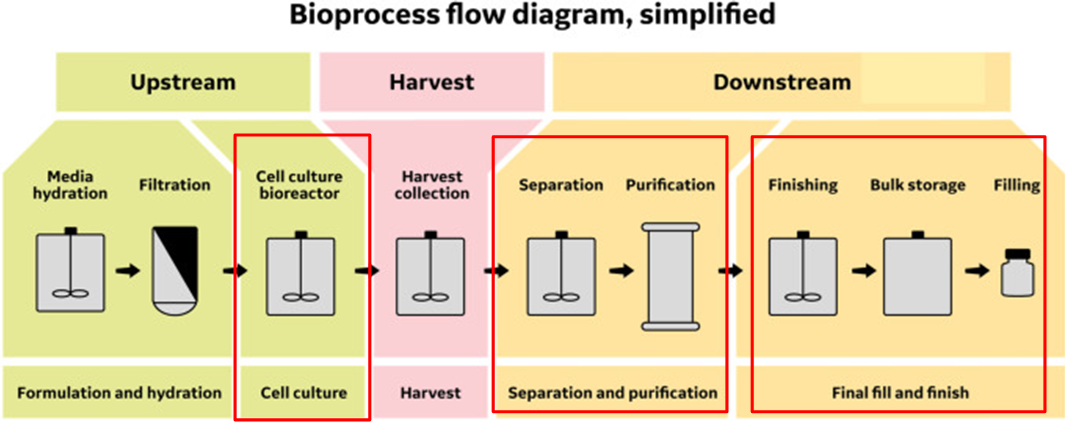 The red boxes highlight some of the areas that TMO focuses on.
Using gene therapy (AAV) as an example, let's look at the different products Thermo has in its catalog for AAV vector production. As seen from the image below, Thermo offers products for cell culture, transfection & production, and extraction steps. This indicates that Thermo is involved in many steps of the process with its customers allowing it to capture value from each step. The various products indicate the steps in bioprocessing, similar to the red areas that were highlighted above. We will talk about the details of the services provided from end to end in the Pharma Services section which is more focused on providing CRO & CDMO services.

The bioprocessing space is expected to see strong growth over the next decade. Looking at single-use bioreactors, multiple reports have indicated that bioreactor demand is outstripping current production volumes. It is estimated that the current bioreactor capacity is only 1-5% of the potential demand by 2030.
Danaher in its more recent earning call (Jan 2023) commented, "In bioprocessing, robust customer activity across monoclonal antibodies, cell and gene therapies, and antibody-drug conjugates, ADCs, drove another quarter of more than 20% growth in non-COVID revenue. We see a bright future ahead for the biologics market & our leading bioprocessing business. The number of biologic & genomic-based therapies in development and production continues to rise, & we expect to see significant industry-wide investments in R&D and production capacity in the future"
Like Danaher, Thermo Fisher is well-positioned to benefit from this explosion in demand for bioprocessing.
Bioreactor capacity is estimated to lag demand by a wide margin over the next decade, to this end, Fiona Barry, Associate editor at GlobalData's PharmaSource commented; "To crank out enough viral vectors to meet "near future need," the industry would need 3 to 6 billion liters of bioreactor capacity a year, It currently has less than 1% of that, June 10, 2021.
The increase in bioreactor capacity demand will be on the back of increased demand for use in pharmaceutical settings for AAV production, antibody production, protein production, and cell therapy. Apart from pharmaceutical use cases, bioreactors are being used for food production and synthetic biology use cases. This indicates that Thermo Fisher is well positioned to ride the growth wave as single-use bioreactors, fermentation, and consumables are used more widely across multiple industries.