Technologies in 5 mins
What we were reading this week: The search for new delivery vehicles for RNA/DNA therapeutics & vaccines heats up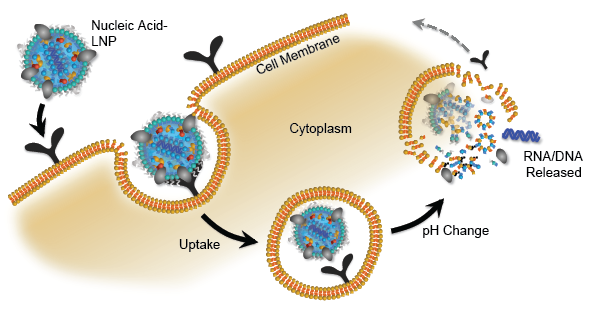 Current offerings
This article covers the bottlenecks faced by mRNA vaccines such as supply chain requirements and rapid degradation leading to limited-expression and efficacy. This can be addressed efficiently by more stable DNA vaccines thus not requiring cold chain handling and allowing for prolonged-expression which should improve the efficacy and reduce dosage requirements.
However, both RNA & DNA vaccines face a similar issue of drug delivery. While the lipid nanoparticle (LNP) has shown to be effective in delivery, concerns about toxicity remain due to endosomal uptake of DNA or RNA.
Some companies in the LNP space are Acuitas Therapeutics (Private) which recently licensed its technology to Pfizer Inc. (NYSE: PFE) and also has other partners, Alynlam Pharmaceuticals (NASDAQ: ALNY) who owns the MC3 formulation which was used in their first-ever FDA-approved siRNA, patisiran (Onpattro).
New Technologies
One solution for the above bottleneck is the use of viral fusion protein (VFP) in LNPs for targeted delivery, one company working on this is Sana Biotechnology (NASDAQ: SANA).
Now, newer discoveries have brought to the forefront fusion-associated small transmembrane (FAST) proteins found in non-enveloped reoviruses, the full article can be found here.  These new methodologies are still in development and their efficacy still needs to be tested.
But the race is on to find better delivery systems that will be essential for the delivery of new age therapeutics in the form of RNA/DNA therapies.
Additionally, you can read our articles on DNA and RNA here to get up to speed!!
If you enjoyed reading this post, please follow us on Linkedin, or subscribe to our free newsletter to receive our next post direct to your mailbox.
Disclaimer: All opinions shared in this article are the opinions of the authors and do not constitute financial advice or recommendations to buy or sell. Please consult a financial advisor before you make any financial decisions.