News
A look at Nimbus & Eli Lilly's AMPK Collaboration, Regeneron and Sanofi's Dupixent EOE approval and Merck's Sotatercept for PAH
1) Eli Lilly (NYSE: LLY) enters into collaboration with Nimbus to develop therapeutics for metabolic diseases
Eli Lilly and Nimbus enter into a collaboration to develop therapeutics for metabolic diseases.
The two companies will collaborate on the development of novel targeted therapies designed to activate a specific isoform of AMPK (AMP-activated protein kinase) for the potential treatment of metabolic diseases.
AMPK is a heterotrimeric complex consisting of a catalytic α-subunit and two regulatory subunits (β and γ). In mammals, there are two α-subunit isoforms, together with two β- and three γ-isoforms, leading to 12 different possible AMPK complexes.
AMPK is considered a high-value target in this indication due to its various role in regulating glucose, lipid metabolism, & inflammation levels. The image below shows how AMPK is involved.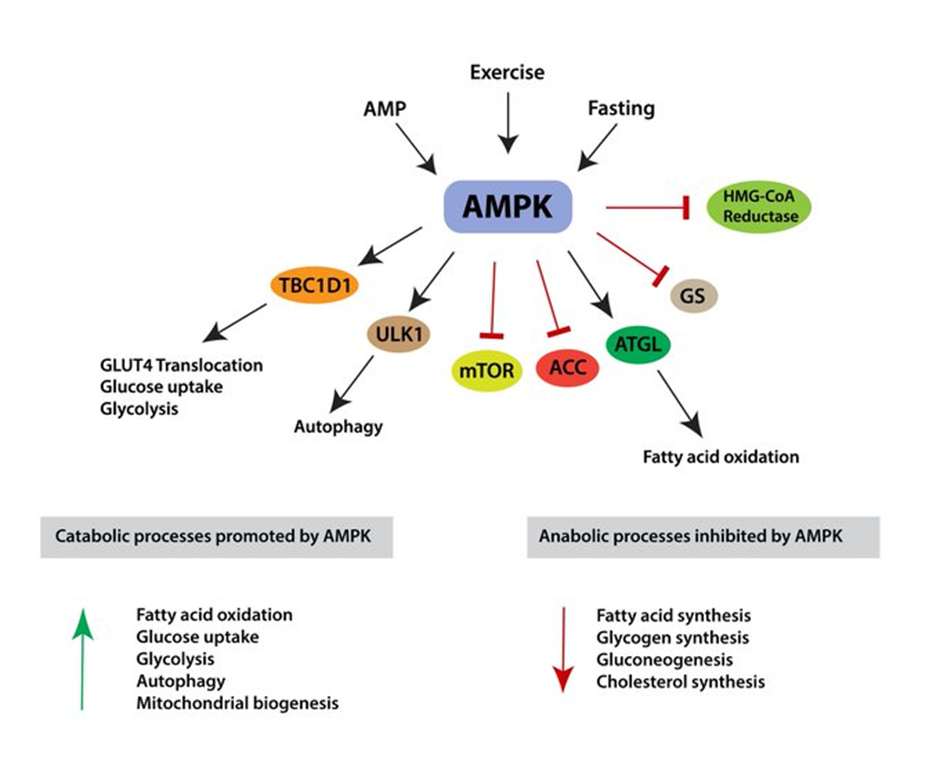 In partnership with Eli Lilly (LLY), Nimbus will identify isoform-selective, small-molecule activators of AMPK heterotrimers. Activating AMPK will promote catabolic processes such as fatty acid oxidation, glucose uptake, and glycolysis which allow for the regulation of glucose, lipid metabolism, and inflammation levels.
For some context, Nimbus started working on AMPK about 2 years ago. The team has developed a deep understanding of AMPK, putting Nimbus in an advantageous position to identify drugs to regulate this pathway. While its programs remain in the preclinical phase, Eli Lilly sees the potential in this pathway.
Eli Lilly's Ruth Gimeno, senior vice president of diabetes commented, "therapies that target AMPK can address a critical need in the metabolic disease space." These include diabetes, obesity-related diseases, or NASH.
As per the agreement, Nimbus will receive up to $496 million which will cover research expenses and developmental milestones. It is also eligible for potential royalties on commercial sales.
As for Eli Lilly, the metabolic disease market is dominated by Novo Nordisk (NYSE: NVO), Eli Lilly, and Sanofi (NASDAQ: SNY). This asset will allow Eli Lilly to further cement its position in the metabolic disease space if approved. If not, it allows the pharma to understand the pathway better for future developments.
2) Sanofi (NASDAQ: SNY) and Regeneron Pharmaceutical's (NASDAQ: REGN) Dupixent delivers another trial win with likely EoE label expansion in children
Sanofi (NASDAQ: SNY) and Regeneron Pharmaceuticals (NASDAQ: REGN) report that Dupixent (Dupilumab) can induce histological disease remission in young eosinophilic esophagitis (EoE) patients ages 1–11 yrs.
Data for its ongoing ph3 trial showed significant results in EoE patients under 12 years old who currently have no approved specific treatments.
Among the children treated with a higher Dupixent dose, 68% saw significant histological disease remission, meeting the study's primary endpoint. This percentage stood at 58%, in patients given the lower drug dose. In comparison, only 3% of the placebo arm saw similar efficacy.
What is EoE?
It is a chronic allergic condition that affects the esophagus (basically your throat). Your esophagus is the muscular tube that carries food and liquids from your mouth to the stomach.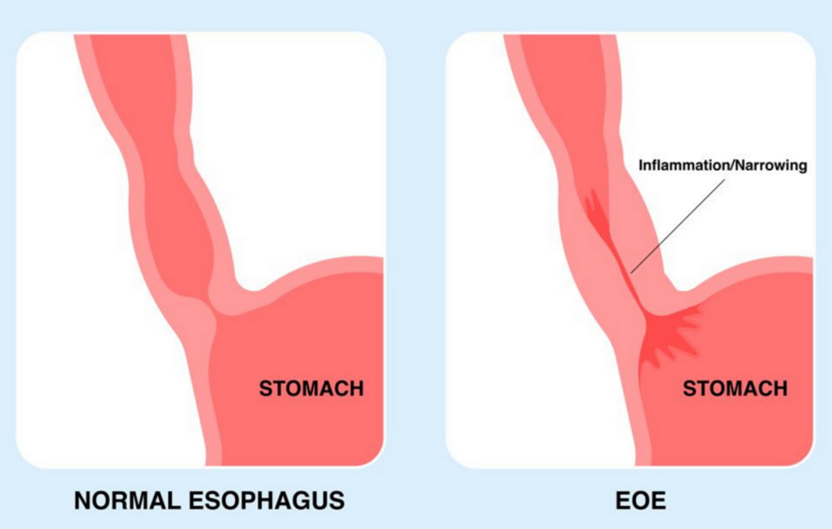 In EOE, the esophagus gets inflamed, narrows, and does not contract properly. If untreated, EoE can eventually lead to permanent damage to the esophagus making it hard to swallow food and causing other health issues.
What is Dupixent (Dupliumab)?
It is a monoclonal antibody that binds and blocks the interleukin (IL4) receptor alpha. This is a key receptor in driving allergic reactions.
The blocking of the IL4 receptor prevents IL4 and IL 13 cytokine-induced responses which include the release of proinflammatory cytokines, chemokines, and immunoglobulin E. See the image below.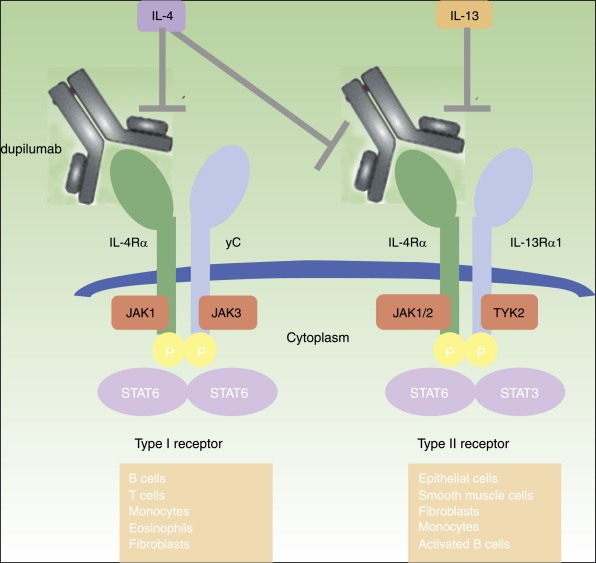 Dupixent was first approved in 2017 for Eczema. Since then Sanofi and Regeneron have been on a label expansion mission. They have done extremely well on this front with the drug now approved for 6 different indications.
Dupixent is already a blockbuster drug, bringing in $5.2 billion in sales in 2021. With the new approvals for its usage and further expansion in the future. Dupixent is easily going to be one of the top 10 drugs by worldwide sales in the next couple of years. This should help to drive top-line and bottom-line growth for both Sanofi and Regeneron.
As a side note, Sanofi is a solid dividend (current dividend yield of close to 4%) stock to consider for income investors, while Regeneron is a potential growth stock to consider (An investment of $10,000 in 2018 would be worth approximately $19,000 now) for growth investors.
3) Merck (NYSE: MRK) Announces Positive Top-line Results from Pivotal Phase 3 Clinical Trial Evaluating Sotatercept for the Treatment of Adults with Pulmonary Arterial Hypertension (PAH)
Merck & Co (NYSE: MRK) reported positive phase 3 data for its activin receptor candidate Sotatercept. The drug met its primary endpoint for Pulmonary Arterial Hypertension (PAH).
The trial included 320 patients in a randomized, double-blinded & parallel-group trial that compared Sotatercept against a placebo.
Patients treated with Sotatercept saw a statistically significant and clinically meaningful increase in 6-minute walk distance (6MWD) at the 24-week follow-up.
What is the 6-minute walk distance test (6MWD)?
The 6MWD measures how far patients can walk in 6 minutes compared to a baseline reading to determine if any health improvements were seen as a result of the therapeutic intervention.
Sotatercept also met almost all secondary (8 out of 9) endpoints, including a longer time to patient death or the first occurrence of a clinical worsening event.
How does Sotatercept work?
Sotatercept is an FC-fusion protein. It is a first-in-class compound composed of the extracellular domain of the activin receptor type IIA fused to the Fc domain of IgG1.
The drug works by binding to activin in circulation thus preventing its interaction with the cell surface receptor. This prevents downstream signaling by the receptor thereby restoring the balance between the pro-proliferative and anti-proliferative pathways reversing the characteristic vascular remodeling which is central to Pulmonary Arterial Hypertension (PAH) pathology.
A visual of the mechanism of action is below.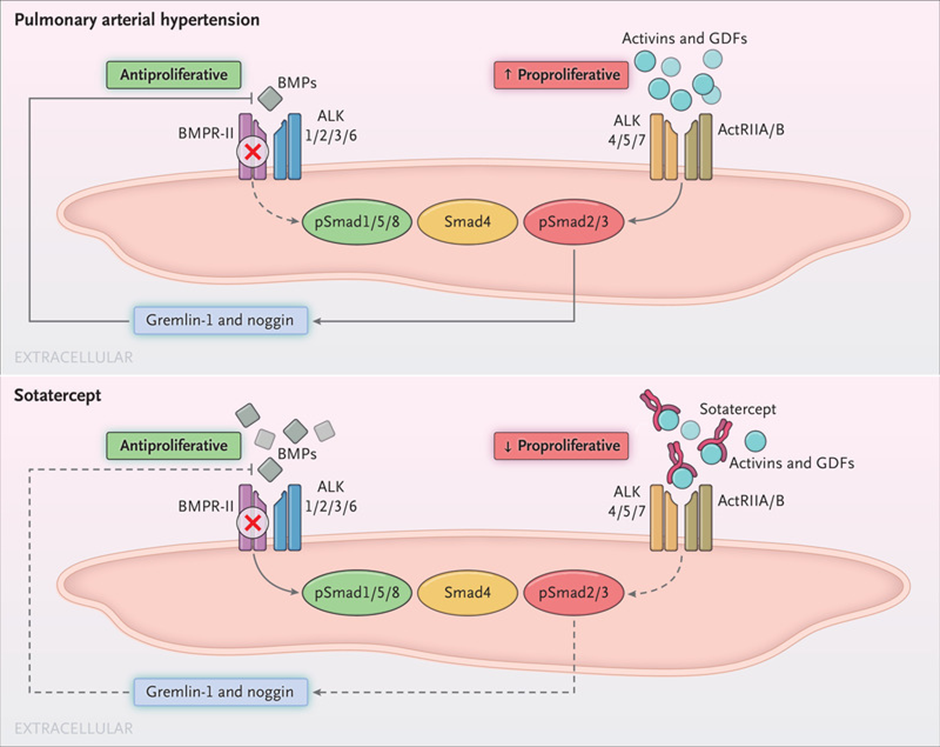 This asset was part of Acceleron Pharma which was acquired by Merck in 2021 for $11 billion. This asset adds to Merck's - Adempas which received approval for PAH in 2013.
Merck is looking to expand its therapeutic portfolio and reduce reliance on Keytruda which made up 35% ($17B/48.7B) of its revenue in 2021. Keytruda's patents are set to expire in 2028 (there is potential for an extension). As such the pharma giant is looking for new therapeutic modalities to help bolster its revenue in the coming years when Keytruda's patents expire and generic alternatives enter the market.
Merck with its current 3% dividend yield is a solid dividend stock for income investors to consider, with the key risk being the patent expiry of Keytruda in 2028. Hopefully, by then the pharmaceutical giant has found a new blockbuster drug to take its place.
If you found our article educational and valuable, subscribe to our newsletter to receive our latest articles directly in your inbox. The subscribe button can be found at the corner of the page.
If you are a subscriber, you could help tell your friends about our newsletter. We will appreciate your support, and hit the follow button on Twitter or Linkedin.
Disclaimer: All opinions shared in this article are the opinions of the authors and do not constitute financial advice or recommendations to buy or sell. Please consult a financial advisor before you make any financial decisions. The authors do not hold positions in any of the mentioned securities.