The below graph shows that the rate of RSV-associated hospitalizations has increased significantly after the COVID pandemic (2020-2021 season).
In the 2022-2023 season, the current estimate for RSV-associated hospitalization stood at 18 per 100k people in the US. However, this is just the start of the RSV season, and the steep increase in hospitalizations would indicate that we might potentially be facing a large number of infections this year.
So why the steep increase in hospitalizations?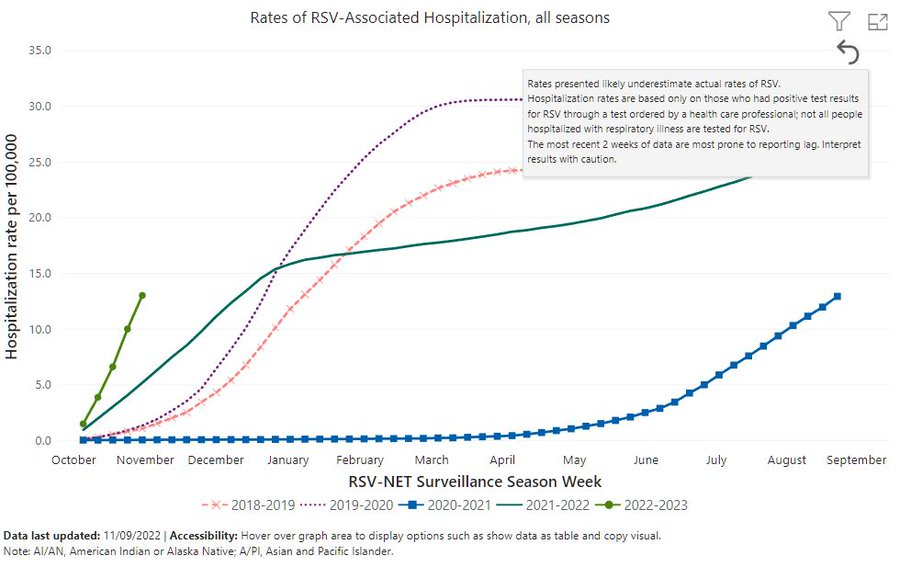 RSV was discovered in 1956 and has since been recognized as one of the most common causes of childhood illness.
RSV can cause severe infection in certain groups of individuals these include babies 12 months and younger (infants, especially premature infants), older adults, people with heart and lung disease, or anyone with a weak immune system (immunocompromised).
The last point is important here. We hypothesize that the COVID-19 lockdowns around the world, together with the wearing of the mask has led to the loss of immunity in the general population towards commonly found viruses.
Similar to vaccines which face a "loss of immunity" in individuals after 4 to 12 months, as individuals were not exposed to common viruses found in the environment for an extended period, their immunity against these viruses has probably waned as well. This results in a higher number of individuals reacting unfavorably when they get an infection 2 years later, thus resulting in higher hospitalizations.
So, you might be thinking, what's the solution to the problem?
There are 2 options in our opinion – Getting a vaccine (oh I hate that word now), or going out like before and letting your body develop its immunity again.
But wait? There isn't a vaccine for RSV right?
Well you are right, there are no approved RSV vaccines currently available.
If you are wondering why?
This is because a RSV vaccine trial in 1966 led to the death of 2 infants and the hospitalization of 80% of the infants who received the product. This set back resulted in the termination of most programs.
"In 1966, a vaccine was tested in the United States against the respiratory syncytial virus (RSV) — which infects almost all children before they turn two1. The tests had dire consequences: Children weren't protected; many infants still caught RSV, suffered worse symptoms than usual, and needed to be hospitalized; and two toddlers died as a result of enhanced disease symptoms" - Vaccine failure explained | Nature
However, things changed when clinician, Barney Graham, created a safer, more potent vaccine that only contains the RSV surface protein known as the F protein.
The RSVpreF protein provided insights to allow the development of a safer RSV vaccine. The surface F protein is essential for the virus to infect cells. As such, vaccination with the protein results in the production of antibodies by your body to fight off the virus. This is similar to how many vaccines work, a visual below explains what happens or you can read our article explaining more about mRNA vaccines.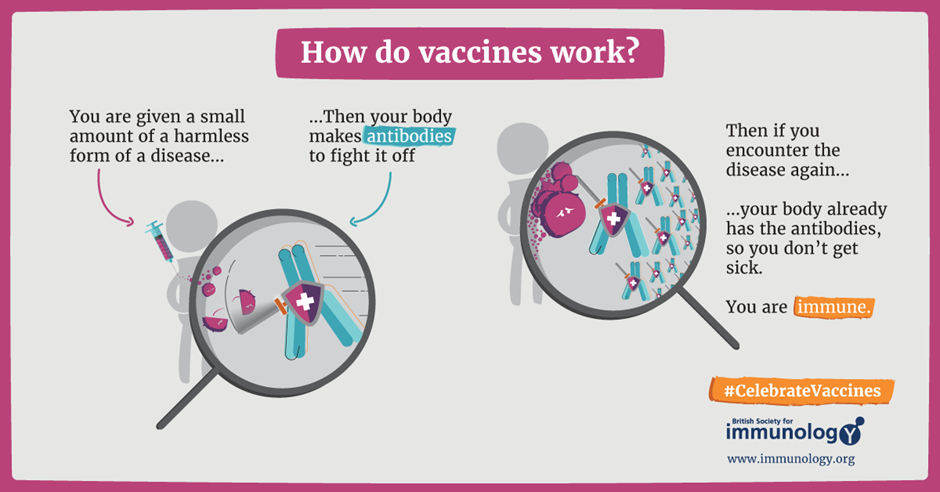 Apart from a vaccine, there are multiple therapeutics that are in development. The image below gives an overview of the various vaccines and therapeutics in development.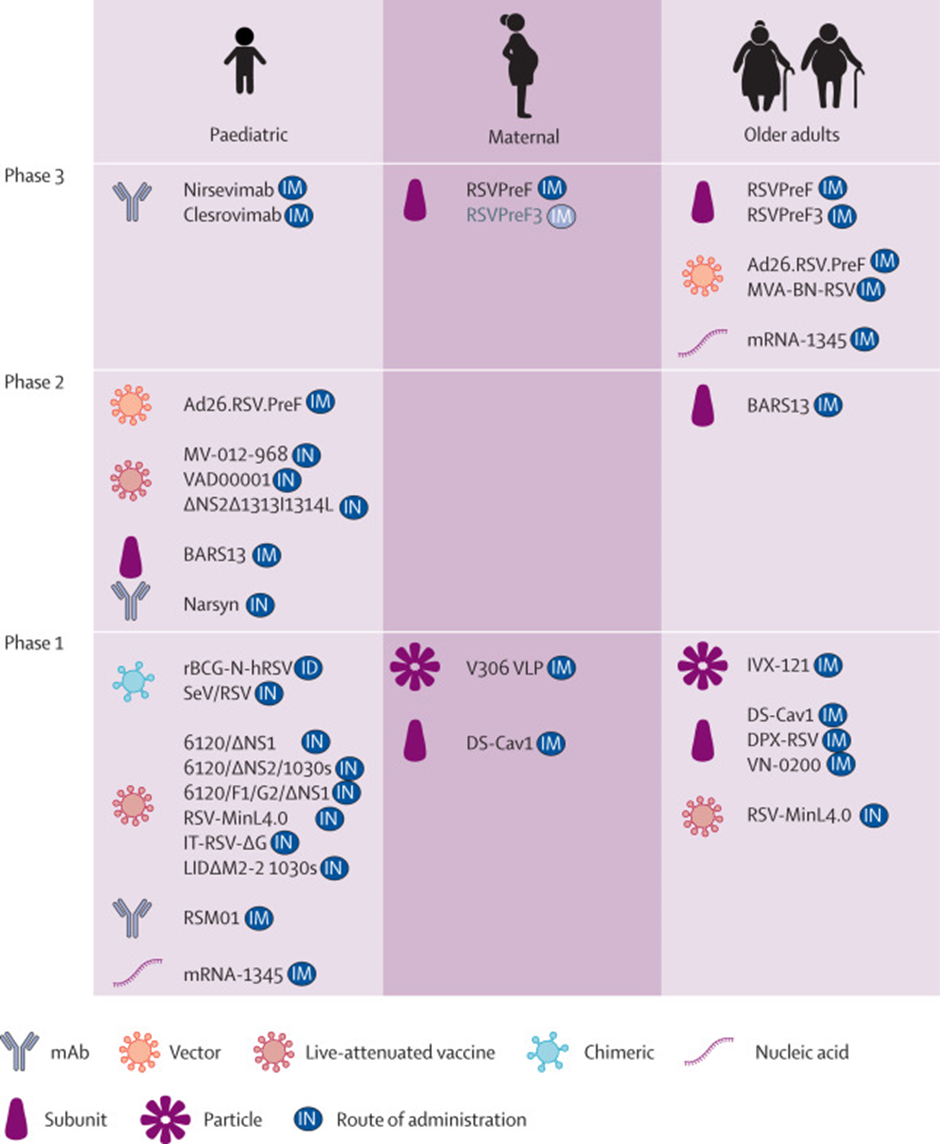 Let's look at some of the most advanced RSV vaccines in development
RSVpreF vaccine from Pfizer (PFE)

In Q3 2022, Pfizer announced positive data for a Phase 3 Global Maternal Immunization Trial for its Bivalent Respiratory Syncytial Virus (RSV) Vaccine Candidate. An efficacy of 81.8% was observed against severe conditions. Pfizer has also shown positive data for its vaccine in older adults.

Pfizer plans to submit for FDA approval by end of 2022.

RSVpreF3 from GSK secured a priority review and a May 2023 action date for its RSV vaccine in early November 2022.

Both the Pfizer and GSK vaccine candidates contain recombinant subunit prefusion RSV F glycoprotein antigens.

Lastly, Moderna (MRNA) is developing an mRNA vaccine against RSV. mRNA-1345 is a vaccine encoding for a prefusion F glycoprotein and it's currently in Phase 3 trials for older adults. The phase 3 trial was initiated in early 2022, as such its still a bit early to expect a data readout, but it is something we are keeping our eyes on.
Of course, the other option is to get out there so that your body's immunity can be naturally developed again. Personally, as a healthy adult, this would be my preferred choice.
All in all, we believe that Q2 2023 will be an exciting time to see if any of the RSV vaccines in development receive FDA approval. Hopefully, if the approvals come, they come ahead of the 23-24 season.
If you liked our article, subscribe to our newsletter to receive our latest articles directly in your inbox. The subscribe button can be found at the corner of the page.
Disclaimer: All opinions shared in this article are the opinions of the authors and do not constitute financial advice or recommendations to buy or sell. Please consult a financial advisor before you make any financial decisions. The authors do not hold positions in any of the mentioned securities.