1. Kymera raises $150 million through the sale of shares to fund development of its clinical and preclinical assets
Kymera which focuses on targeted protein degradation announced that it is raising $150 million to support its ongoing research and development programs and for general corporate purposes.
The biotech has three assets in phase 1 trials for oncology and immune-inflammatory diseases. KT333 is a first-in-class degrader of transcriptional regulator STAT3, which received Orphan Drug designation in June and is being assessed for treatment of peripheral T-cell Lymphoma.
Kymera's second phase 1 asset is KT413, a novel heterobifunctional degrader that target degradation of both IRAK4 and IMiD substrates Ikaros and Aiolos. This asset is being developed for MYD88 mutated cancers.  Both KT333 and KT 413 saw their first patients dosed in June.
In the immune-inflammation space, Kymera's KT-474 targets IRAK4, a protein known to play a significant role in inflammation mediated by toll-like and IL-1 receptors. IRAK4 plays a role in diseases such as rheumatoid arthritis, atopic dermatitis, and multiple other inflammatory diseases. Specifically, this asset is reported to have potential for broad activity across Th1-Th17 & Th2 diseases. Kymera shared favourable phase 1 data for this asset and stated that it has received FDA support to advance this asset for atopic dermatitis and hidradenitis suppurativa.
In addition, the drug marker has three assets in early development and seven programs ongoing in collaboration with Sanofi (one asset) and Vertex (six assets) which are confidential.
The targeted protein degradation space has seen robust interest over the past few months with multiple partnerships being formed between large pharmaceutical companies and biotech's. Some prominent examples are VantAI's partnerships with Boehringer Ingelheim, Janssen and Blueprint Medicines, Proteovant Therapeutics, Tara, Clexio, Homeicos Therapeutics and DermaXon for the discovery and development of protein degraders.
Other partnerships in this space include AbbVie and Plexium partnership to develop targeted protein degraders for neurological conditions and Bristol Myers Squibb's multi-billion deal with Evotec for development of protein degraders.
Overall, the increasing number of collaborations and investments in the protein degradation space indicate that this might be the next frontier for drug development. While it is still early to pick the winners, interested investors should keep a close eye on developments.
2. Gilead announces approval of a new HIV Drug
Gilead Sciences is a biotech that focuses on researching and developing antiviral and oncology drugs.
The company has a suite of products for HIV/AIDS, Hepatitis C, Hepatitis B, COVID-19, Cell therapy, and others.
Gilead's HIV product suite is particularly strong as the company has been actively innovating in this space to improve patient life over many years. Despite its success, Gilead continues to innovate and announced the approval of a new HIV Drug in Europe.
The new drug named Sunlenca (lenacapavir) first-in-class capsid inhibitor (targeting the protein shell of the virus) with a multi-stage mechanism of action and has no known cross-resistance to other existing drug classes.
The multistage inhibition potential of lenacapavir (see image below) is thus superior to the currently available treatment options which only block one pathway and as such require combination therapy. The new drug is indicated for patients who no longer respond effectively to their current therapy.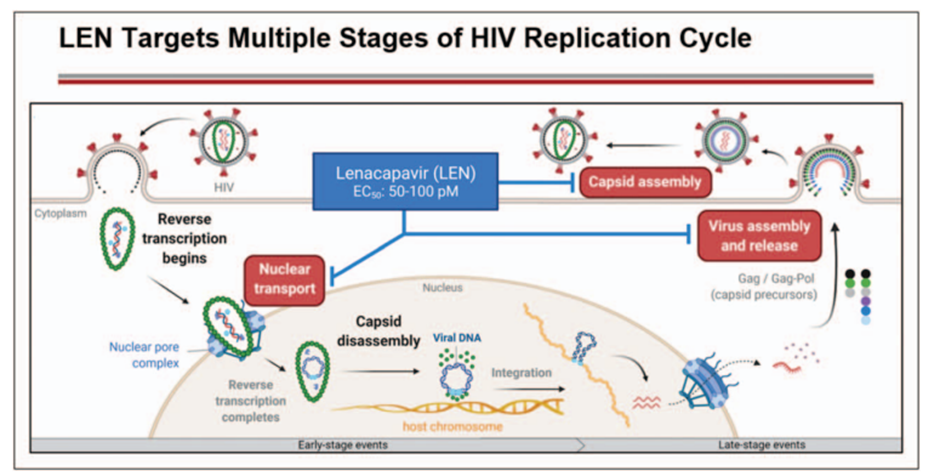 Additionally, lenacapavir is the first approved therapy with a dosage frequency of only twice yearly following a loading period with the oral version. This will help to reduce costs and improve patient life as fewer visits to the hospital means patients go on with their routine lives.
The approval was based on data from the CAPELLA study which showed that 83% of patients receiving the drug showed undetectable viral load at week 52. This was a slight improvement over the previous update when 81% of patients showed undetectable viral load at week 26.
Over in the US, the trial for lenacapavir was put on hold due to concerns flagged by FDA over the potential for glass formation due to interactions between the drug and the vials the company was using. Gilead has since changed the vials it is using in its packaging and has received FDA clearance to resume the trial.
3. Aerie caught Alcon's eye: Alcon to acquire Aerie in a $770M deal
The acquisitions continue!
Eye-care company Alcon (ALC) has agreed to acquire Aerie Pharmaceuticals Inc. (AERI) for $15.25 per share, which equates to a value of approximately $770 million.
The deal will add two commercial products to Alcon's range – glaucoma therapies Rocklatan (netarsudil/latanoprost) and Rhopressa (netarsudil). Rocklatan and Rhopressa brought in sales of around $112 million in 2021, up 30% compared to the prior year. According to Aerie's estimates sales should reach $130-$140 million this year (2022).
Apart from the two approved therapies, the acquisition will also add seven clinical and preclinical drug candidates to Alcon's portfolio. These assets are being developed to treat a variety of eye diseases such as glaucoma, ocular surface disease, retinal diseases (such as retinal vein occlusion, diabetic macular edema, and wet AMD), and ocular inflammation. The most advanced asset in the pipeline is AR-15512 which is currently in phase 3 trials for dry eye disease.
After the deal was announced, shares of Aerie jumped 35.6% to $15.12 the next day, just shy of its $15.25 acquisition price tag. The deal is expected to close in the fourth quarter and Alcon said the acquisition will add to its core per-share earnings in 2024.
The current deal comes on the back of the Kala Pharmaceutical deal announced in March. This was for the acquisitions of two loteprednol etabonate-based products for dry eye and pain/inflammation following ocular surgery for $60 million upfront with four additional milestone payments in the future based on sales targets.
For those who don't already know, Alcon was spun-off from its former parent company, Novartis in 2019.  Since then the eye-care-focused biotech has been steadily building its ophthalmic medicine range with a series of bolt-on deals.
As Alcon continues to develop its drugs, the acquisition strategy the company has embarked on will help to further cement Alcon's competitiveness in the ophthalmic medicinal sector and place it at the forefront.
With that, it's a wrap. We hope you enjoyed our top news of the week article.
If you liked our article, subscribe to our newsletter to receive our latest articles directly in your inbox. The subscribe button can be found at the corner of the page.
Disclaimer: All opinions shared in this article are the opinions of the authors and do not constitute financial advice or recommendations to buy or sell. Please consult a financial advisor before you make any financial decisions. The authors do not hold positions in any of the mentioned securities.