1. Iveric plans FDA submission of data for geographic atrophy eye-drug following study success
Iveric Bio announced positive phase 3 topline data from Zimura for geographical atrophy (GA). Zimura is a novel investigational complement C5 inhibitor.
Overactivity of the complement system and the C5 protein are suspected to play a critical role in the development and growth of scarring and vision loss associated with geographic atrophy (GA) secondary to age-related macular degeneration (AMD). By blocking the activity of C5, it is hypothesized that there will be a decrease in the activity of the complement system that causes the degeneration of retinal cells and potentially slow the progression of GA.
In the GATHER2 clinical trial, the drug met its specified primary endpoint at 12 months which showed a statistically significant reduction in the GA progression. In individuals who received Zimura an average of 14-18% smaller lesions were seen compared to individuals given a placebo.
On the safety front, the company reported no events of eye inflammation but mentioned that choroidal neovascularization (CNV) was seen in 6.7% of individuals administered the drug compared to 4.1% in the placebo group. What this means is that there was an increase in the number of new blood vessels in the eye which is not favorable and could lead to future vision loss.
On the competitive front, there were 2 drugs in testing for GA - Zimura and Apellis pharmaceuticals, pegcetacoplan targeting the C3 protein in the complement system. While Zimura reported positive results from two phase 3 clinical trials, Apellis failed one of its two late-stage studies.In its most recent update, Apellis announced that at 24 months the efficacy of its drug was more robust.
As both drugs are targeting different proteins in the complement system it remains to be seen if there is any long-term benefit to individuals administered the therapy in terms of visual acuity.
Following the positive data, Iveric plans to submit the data to FDA for approval. If approved it would be the first approved product for Iveric.
2. Orbital Therapeutics Launches to Advance  Next Generation of Innovative RNA Medicines
Orbital Therapeutics was launched with a vision to harness the full potential of RNA therapeutics to treat human diseases. The company is backed by big-name VC's ARCH Venture partners, A16Z Bio, and Newpath partners and has a collaboration with Beam Therapeutics.
RNA therapeutics have firmly found a place in the clinics over the last decade with several approved products for a range of diseases and more in development. You can get a quick overview of RNA, mRNA, and RNA modalities here.
Looking ahead, the journey for RNA therapeutics seems to be at the beginning rather than at the end with many opportunities to innovate RNA technologies to advance a portfolio that could expand the potential of today's RNA therapeutic approaches.
Some of the key hurdles which were overcome by the first generation of RNA therapeutics were the rapid degradation of delivered RNA, delivery of RNA, and complications associated with immunogenicity. With these issues now at the back of researchers' minds, they have new issues to think about.
This is where Orbital hopes to play a key role. Orbital is building a first-in-kind RNA platform that will integrate existing and emerging RNA technologies and delivery mechanisms to further advance RNA therapeutics. One of the key issues with RNA modalities is durability and half-life which is one issue Orbital hopes to address. We wrote about some companies working to address these issues in two previous posts which can be found here and here.
Orbital also mentioned that they will be working on delivery technologies to allow for delivery to a larger number of cell types and tissues. We previously spoke about "The search for new delivery vehicles for RNA/DNA therapeutics & vaccines heats up" and a new delivery technology being developed by Senda Bioscience which you can read more about here.
Orbital also struck up a collaboration with Beam Therapeutics in which the two companies have entered into a license and research collaboration. This will grant both companies access to the respective RNA and non-viral delivery technologies.
Beam CEO, John Evans shared on Twitter " Orbital combines Beam technology/team + add'l RNA technologies + IP from Stanford + leading RNA founders. With Orbital, we saw an opportunity to unlock value in our RNA/LNP capabilities in non-core areas (vaccines, protein therapeutics). Our contributions will help accelerate Orbital's platform and pipeline, and we will own a significant % of the company (75M shares). I believe this deal further validates the value of Beam's technology stack, strengthens our potential as the leading integrated platform for genetic medicine, and could create significant value for Beam while preserving both our capital and our internal R&D capacity".
Beam has made similar collaborations before such as the deals it has struck with Verve Therapeutics for its base-editing technology and Prime Medicine for its prime-editing technology. You can read our summary on Beam and other gene editing/CRISPR companies in our previous post - 8 Gene-editing companies to consider for your portfolio.
Lastly, Orbital is helmed by a star-studded team such as the former founder of Alnylam Pharmaceuticals, CSO of Beam Therapeutics, and well-known professors.
Overall, Orbital is developing a platform that provides access to state-of-the-art RNA and novel delivery technologies. It plans to use this platform to build an expansive portfolio across a range of human diseases in areas such as of vaccines, immunomodulation, protein replacement, and regenerative medicine.
3. FDA lifts hold on Sarepta's DMD Trial following protocol adjustments
Early this year, FDA suspended US testing of Sarepta's Duchenne drug, SRP-5051 over safety concerns as one patient in the SRP-5051 trial had experienced notably low magnesium levels, which can lead to heart risks and seizures.
What is Duchenne muscular dystrophy (DMD)?
In DMD, the affected gene encodes for a protein called dystrophin. A mutation in the gene results in the non-functional production of dystrophin or in the worst case could result in no production at all. A lack of dystrophin is detrimental as it would cause muscle cells to become damaged and weakened over time.
SPR-5051 is the next-generation peptide-conjugated phosphorodiamidate morpholino oligomer (PPMO) that allows for the production of a shorter form of dystrophin, thereby allowing for muscle restoration. This is achieved by a technique called exon-skipping - see image below.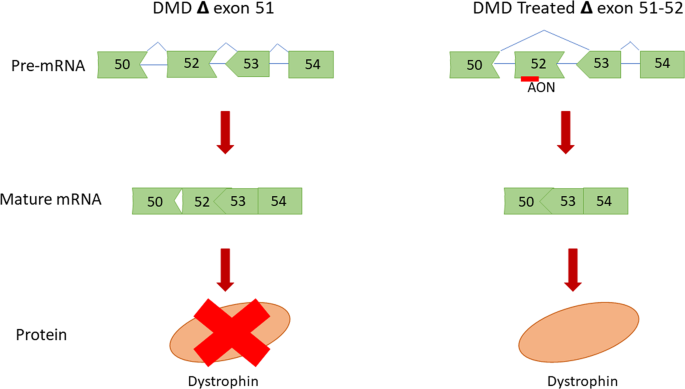 Based on Sarepta's phase 2 clinical trial, the company said that SPR-5051 saw enhanced cell penetration, exon-skipping, and dystrophin levels at a lower dose compared to Exondys 51 (eteplirsen) therapy, the biotech's first-generation RNA therapeutic for DMD treatment. As such, the new drug (SRP-5051) is meant to be a more potent successor to Sarepta's approved drug - Exondys 51.
Sarepta also has two other approved drugs Vyondys 53 and Amondys 45 which are targeting different DMD mutations.
Sarepta has cornered the DMD exon-skipping market and is innovating on new RNA therapies targeting other mutations, as well as gene-therapy-based treatments in DMD to keep its lead. The biotech has a total of 40 ongoing pipeline programs for various diseases, indicating its ambitions for continued growth.
Hopefully, this short pause does not hold up the scheduled primary completion date for SRP-5051 which is estimated to be September 30, 2023.
If you liked our article, subscribe to our newsletter to receive our latest articles directly in your inbox. The subscribe button can be found at the corner of the page.
Disclaimer: All opinions shared in this article are the opinions of the authors and do not constitute financial advice or recommendations to buy or sell. Please consult a financial advisor before you make any financial decisions. The authors do not hold positions in any of the mentioned securities.